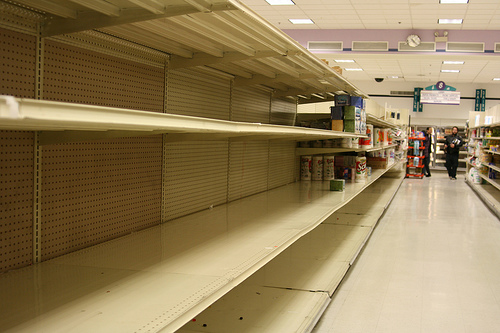 This same thing happened last year during the holiday season with the Bakugan craze.  Since store shelves have been completely cleared of all things Zhu Zhu Pets, many people start thinking that there has been a Zhu Zhu recall and rumors start to spring up.
First off, no, as far as we know there has been no Zhu Zhu Pets recall of any kind.  Although there have been some reports of hair entanglement issues with their wheels when children with long hair put a toy hamster close to their ear to listen to them purr, or just to snuggle them.  But that is not enough of a danger to prompt a recall.
In fact, the rumors that the Zhu Zhu Pets were recalled were enough to prompt the parent company Cepia LLC to post the following to their website:
We have received emails and phone calls with questions about Zhu Zhu Pets™ at Walmart.  There has been some miscommunication that the pets are being recalled, and we want to assure you the product is not being recalled.

Here is Walmart's response to help answer your questions:


"Zhu Zhu Pets™ hamsters are among the most sought after toys this holiday season and are quickly selling upon arrival in stores. Walmart stores have been receiving new shipments this week in preparation for their Sunday ad circular.  Zhu Zhu Pets™  hamsters are currently "blocked for sale" at stores to ensure the product is available on Sunday when advertised.   Unfortunately, a few were mistakenly placed on the sales floor too early which caused the confusion at the registers. We apologize for the situation and any confusion. Zhu Zhu Pets™ hamsters will be available for sale at Walmart stores again on 11/8/2009."
So Walmart started stockpiling their toy hamsters in anticipation of a sale they were having (which you already missed by the way, sorry) and some Walmart employees must have told consumers that asked if they had Zhu Zhu Pets in stock that they were "blocked" from selling them, and thus a rumor is born!
Note, your chances of finding any Zhu Zhu Pets at their $10 retail price is going to be EXCEEDINGLY DIFFICULT this holiday season, as now that the news stories have started about the popularity of the toys, as soon as they hit the shelves they are being snatched up.   If you are the type of person who will stalk your local stores day after day in order to save $10, then by all means, have a go.  You'll likely waste more in gas trying to get a retail price Zhu Zhu pet.
If however, you are like us and have better things to do with your time, Click here to find the best Zhu Zhu deal right now on eBay listed with BuyItNow
.  Basically that link does a search that excludes all the junk people try to sell as homemade addons, as well as the cheapest of the accessories.  If you want a Zhu Zhu Pets surfboard from eBay, it will not show up on this search. But you will see actual Zhu Zhu hamsters on the first page starting with the lowest price.
If you like taking your chances and bidding to win, click here to see the the same search but without Buy It Now sorted by ending soonest
Related Toy Reviews: