If you've been considering picking up a Wii for the holiday season this year, hold off another week.  A number of site are reporting on a supposedly confirmed rumor that Nintendo will drop the price of their Wii console from $249 to $199 on September 27th 2009.
Both the XBox and Playstation 3 have had recent price drops, putting both within spitting distance of the current Wii price, with the PS3 hitting $299 and the XBox available without a hard drive for $199.
The price drop has not been officially confirmed by Nintendo, but a number of pictures of future newspaper circulars and advertisments showing the $50 price drop have been scanned and seen around the net: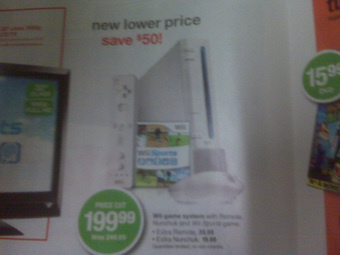 It looks like a done deal to us.
Most Commented Posts