Today we get back to the Beach toys (and no, Annette Funicello is not involved). If you are in the market for a slightly more comlicated beach toy, the water pump is for you. It is fun with just a bucket of water, but we have been known to incorporate them into our sand castles. The princess loves this because she is way into anything she can pour. My favorite is this Gowi water pump set. It includes a shovel and teddy bear sand mold and the pump feeds onto a water wheel. The pump comes off so the pail can be used for sand carrying too.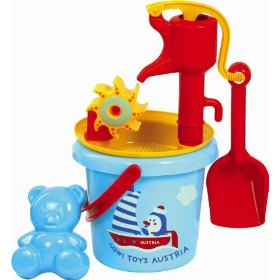 I also like this water pump from Magic Cabin.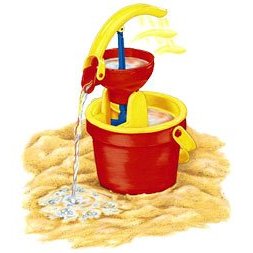 It doesn't have a water wheel but the pump and bucket are enough for a rollicking good time. These are also popular with kids who are reading the Little House books.
Related Toy Reviews: