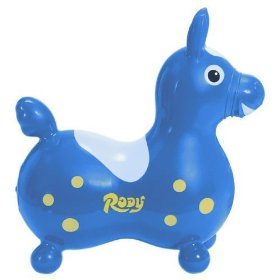 Much to my (and my kids') disappointment, we do not own a Rody inflatable horse. However, we have close friends who have one of these bouncy horses and that is really the next best thing to owning one yourself. Why do I love Rody horses? Well, first they are shiny, and don't we all like shiny things? Also, he comes in the loveliest bright toy horse colors.  Click here to see the color choices available.
Rody the bouncing toy horse is also a lot of fun. He is made of latex and phthalate free vinyl, soft and so very bouncy. You inflate him to be the size you need (Up to 12 inches saddle height). The one the kids rode last weekend was inflated for their three year old and it was just a little too tall for the princess. Her feet didn't touch the ground quite enough so I had to hold Rody's tail to keep her from bouncing off.
The bouncing, I can't believe how bouncy this toy is! It is everything I look for in a toy. Nice looking and fun to play with. It is really up to the kids to make the fun, unlike so many toys that seem to play themselves while the kids passively observe.
They also make one that looks like a giraffe, the gymnic Gyffy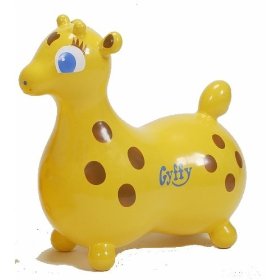 Rody is designed for kids aged 2 to 4, but if you have an older child in need of some bouncy fun they also make a larger size for ages 5 and up, the Rodi Max.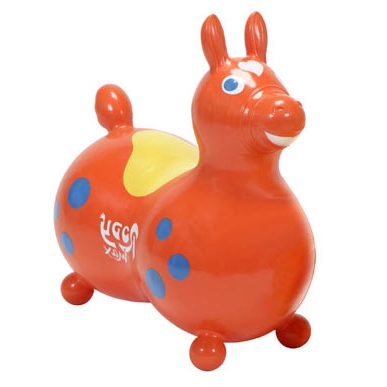 And, just to show that there is nothing in the universe that doesn't have a Hello Kitty interpretation, the Hello Kitty Rody Horse key chain. I think I might need one, although I'm not sure I can get past the fact that it looks a little like Rody ate Hello Kitty.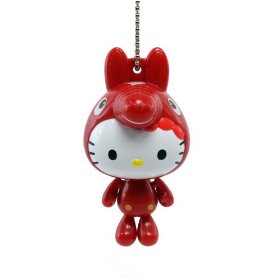 Most Commented Posts