The boys were invited to a robot and monster birthday party last week. This may be my favorite theme of any birthday party yet – because really who should be forced to choose between monsters and robots? A wonderful time was had by all. The robot and monster loving boy's parents set up an amazing art station with cut out felt monster shapes for sewing and gluing. There were all sorts of googly eyes, pompoms and shiny things and some really excellent monsters were created. The following were our presents.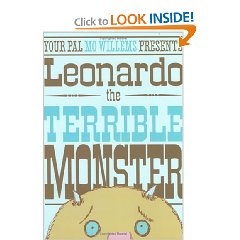 I love this book, Leonardo the Terrible Monster by Mo Willams. A not so scary monster, determined to scare the tuna salad out of someone, ends up joining forces with the boy he intended to scare. It has Mo Willam' simple but expressive illustrations and his signature humor – funny to kids and grown-ups alike.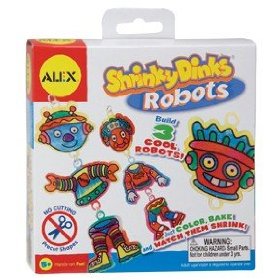 Robot Shrinky Dinks. Doesn't everyone love shrinky dinks? This little kit is nice because there is no cutting involved, just coloring and shrinking, making it a good shrinky dink choice for younger kids.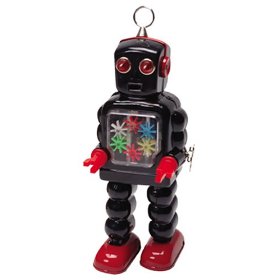 The piece de resistance: The Schylling High Wheel Robot. It is made of tin and looks like something out of a 1950's movie. You wind up the key and it walks and the wheels in its body turn and make sparks. Why yes, it does come in packaging that allowed us to open it and play with it a little before we wrapped it, why do you ask? It does say in big letters on the bottom that it is NOT A TOY and only for adult collectors. Yes, we did give it to a 6 year old. I think that the toy itself is not dangerous, but it could break in such a way as to become dangerous (sharp twisted metal – I think that there is no way a tin robot can meet current safety standards). There aren't any kids in their house younger than 6 and I know the parents well enough to know that they wouldn't mind a toy that was a little breakable, not when it is this cool. That is my justification – use your own judgment. It is pretty freakin' cool, though, no?
Related Toy Reviews: