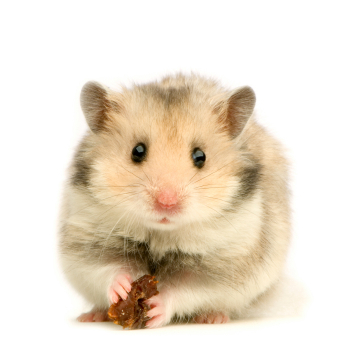 Many pet shops are seeing a upswing in people purchasing or asking about live hamsters.  Since the Zu Zu Pets toy hamsters are completely sold out around the country, some parents are coming up with bright ideas since they cannot find the real toy hamsters anywhere.  Some are going so far as buying real live hamsters for their kids.
However, anyone considering buying a real hamster on a whim should be well warned.  Owning a pet is a serious responsibility and most kids under the age of 7 will be unable to keep up with it.  They need to be fed and given fresh water regularly, played with frequently, exercised out of their cage, found after they escape, etc.  That plus the constant cleaning and re-bedding their cage at least weekly lest your house starts to smell like a barn.  Most children may have issues keeping up with the responsibility, so take care that you may end up being the hamster keeper in your house.
Note also that hamsters have some bad habits that you should be aware of before giving them to children:
They eat their young.  Yeah.  Seriously.  If you get two of them, watch out.
They bite, especially when awakened during the day to play after school.
They are nocturnal, so expect to hear some serious hamster activity at night while trying to sleep.
They are fragile, kids under the age of 6 should not be allowed to handle them as they can easily be crushed.
They chew EVERYTHING.  Hamster teeth never stop growing and thus must be chewed down regularly.
They die.  The average hamster life span is 2-3 years.
They are more expensive than even the over priced eBay Zhu Zhu Pets.  Add up the expense of a cage, hamster wheel, hamster ball, food, bedding material and you are looking at over $400 a year in hamster related costs.
That all being said, there is no doubt that your children will enjoy a real live hamster and learn FAR more from the care and responsibility of owning a pet than they ever will playing with the robot versions.
If you want more details on hamster care, click here
Related Toy Reviews: