Looking for a way to help the kids beat the heat next summer?  Create your own backyard water park with an inflatable water slide!  You don't need to drive for hours to get to a water park when you can set one up for yourself in a matter of minutes in your own yard?  Depending on your budget and backyard size, there is an inflatable waterslide or slip and slide that will likely fit.
Yeah yeah, summer is almost over.  But for many people the heat will continue for months to come.
We rented an inflatable bounce house a couple of years back for the boys 5th birthday party, and while it was great fun, the total cost to rent it for one day was around $200.  Little did we know that if we had spent a little more money, we could have owned our own giant blow up slip and slide instead!
Here is a rundown of the best consumer grade slides out there at the best prices.
Wipeout Curve Backyard Water Park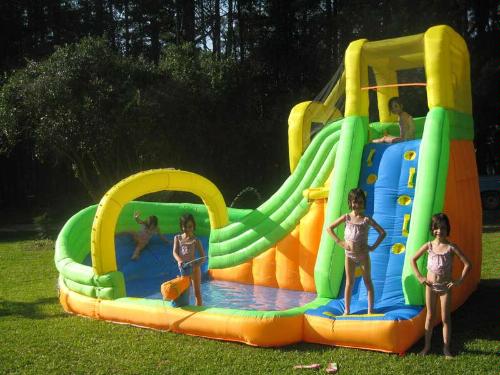 If you're looking for some seriously wet backyard fun, then the Banzai Wipeout Curve is the way to go.  It's designed so that you can slide down around the curve into a pool and then climb back up the slide without having to step out of the pool.  If you've ever owned any sort of backyard inflatable pool, you know all about what I'm saying here.  It doesn't take many steps for little wet feet to pick up dirt, twigs, cut grass, and other junk that end up making the pool look like a mess.
At a slide length of 18 feet long, this is no wimpy waterslide.  It comes with everything you need to set it up except for water of course.  The included blower fan is all you need to inflate it.  Although it has a weight limit of 200 pounds, adults and older teenagers should stay off it to help extend it's life.
It's not hard to put away if you do it the right way.  Basically deflate it, which will drain the water, then re-inflate it and leave in the sun for an hour to dry.  A little planning goes a long way here, and it will really extend the life of your slide.
While not cheap, it's quite a steal considering the motor and fan to inflate it are included.  When compared to a one day rental of a commercial grade slide or bouncy house, it's really a no brainer.
Click here for more details on the Wipeout Curve Backyard Water Park
Check out this video below to see this water slide in action and get a good idea of the size:
Banzai Wave Breaker Water Park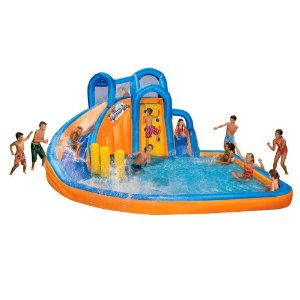 For a little less money, you can have a slightly smaller slider than the Wipeout Curve featured above.  The Wave Breaker comes in at a little over half the cost of the Wipeout curve (unless you catch the Curve on sale).  Note, we couldn't find a good picture or video of the Wave Breaker, and the stock image you see on most websites is certainly Photoshopped, making it look much larger than it actually is.  No, ten kids cannot play on this thing comfortably at the same time.  Two or three, no problem.
Click here for more details on the Banzai Wave Breaker Water Park
Go Cheap With A Slip N Slide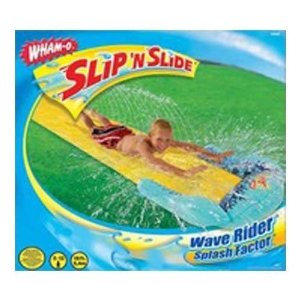 If none of the options above are in your price range, then go with the old standby, a good old fashioned Slip N Slide.  Note that the extreme price difference between the backyard waterparks above and the old stand by Slip N Slide are with good reason.  A Slip and Slide is basically a tarp with a leaky hose attached to it.  Don't expect a smooth ride, or for the holes in the hose to be aimed anywhere near the sliding tarp.  But if $400 isn't in your backyard water budget, but $20 is, the Slip N Slide is just the thing.
Click here for details on the good old Slip N Slide
Most Commented Posts