Every kid needs a great table for their toddler train set. While sitting on the floor is certainly easier for little kids than we adults, it's still way more fun to sit or stand at a good play table and wander from spot to spot.
Our dentist office has one of those ubiquitous Thomas the Tank Engine play tables for their wooden toy trains and the kids make a beeline for it as soon as they walk through the door and would play with it for hours if allowed. I'd chalk it up to dentist avoidance, except that the dentist chairs have LCD TVs mounted overhead and a XBox 360 with their choice of games or movies to play while having their teeth cleaned. Video games and movies are a special treat in our house, so the kids are usually VERY eager to get inside, yet the train table holds their attention every time.
Having somewhere to stand up and play is important to a young minds development, and thus we bring you our list of the best kids train tables we've found out there.  My opinion, don't buy a train table that has fixed tracks.  It's part of the play to move and change the tracks.  If you have an aggressive toddler who likes to rip the tracks apart, make sure you get a couple packs of Suretrack that will keep the tracks connected without making the connections permanent.
Basic Wooden Train Table And Train Set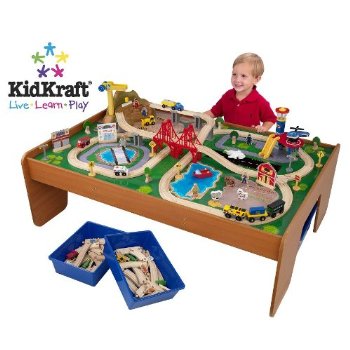 The Kid Kraft Ride Around Train Table make the perfect gift and is a great value considering everything that comes with it.  Basically everything you see in the picture on the right is included.  You get the train table, you get the wooden tracks, a bunch of trains, people, wooden farm animals, a boat, an airplane, a wooden helicopter, an airport, wooden train bridges, a crane, and some wooden construction equipment.  There are four different areas painted on the table that can be used
This railway table also comes with two plastic bins for storage of the extra pieces.  The bins aren't large, and if you have the budget, KidCraft makes a wheeled drawer that fits two perfectly under the table to use for added storage.
The KidCraft train table and set is fully compatible with Brio and Thomas railway sets, so if you have existing pieces or want to expand, you won't be limited.  You can try to find one at Toys R Us, but you likely won't find it at this low price at Amazon and with free shipping, why would you bother driving to find one?
Click here for all the detailed specs on the Basic Train Set and Table
Metropolis Deluxe Wooden Train Table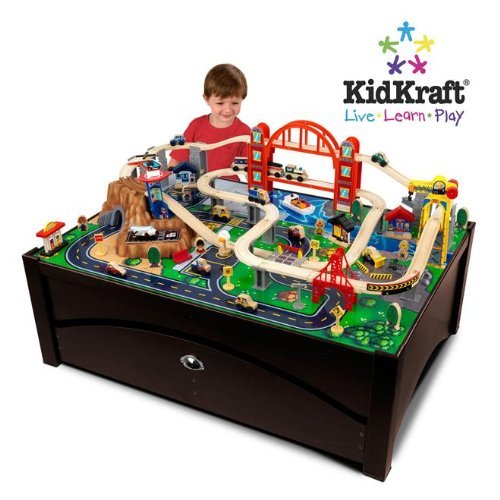 Seems like the best values in toddler train tables come from KidKraft.  For only $50 more than the basic train table above, this city train table set takes it to a whole other level!  Everything about this set is quality.  It comes with a much nicer looking table, includes a large roll out trundle for storage, almost everything you get in the set above (the farm parts are not in this City set.
You do get some much cooler stuff, including a train mountain, a double decker bridge, and roads painted on the top to drive your cars around.
Like the set above, these wooden train tracks are fully compatible with Thomas and Brio wooden sets, so you can add tracks and trains as you want.  Considering that the least expensive basic wooden train set sells for around $75, and the cheapest basic train table is $100, for $25 more you get a really really nice table with built in storage and a varied and fun train set.  If you have the means, this is really the best train set and table combination out there.
Click here for all the detailed specs on the Metropolis Deluxe Train Set and Table
Basic Train Table Only by Melissa & Doug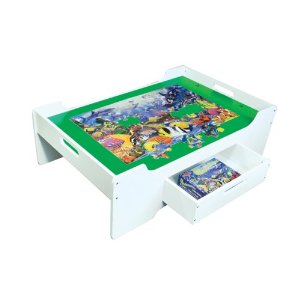 If your budget is limited, or you already have a large collection of wooden trains and train tracks, the Melissa and Doug table is a great option for just a simple play table to go with.  This Melissa & Doug wooden table sells for around $100 with free shipping when ordered from Amazon. It will likely be higher at your local Toys R Us.  It comes with a blank top and can be used more easily for other activities, plus comes with a single pull out drawer for holding trains, art supplies or whatever your children like to do.
It's about the same size as the KidKraft tables, at 48″ by 32″, so plan your playspace accordingly.
Don't Forget The SureTrack!
And as always when buying wooden toy train track for your little ones, buy some SureTrack!  Suretrack is a great value at around $10 and will save you tons of time and frustration from train tracks that come apart during play.  They are little plastic clips that slip over your Brio or Thomas compatible train tracks and keep the pieces together during play, but can still easily be taken apart when playtime is done.  Don't play trains without it.
Related Toy Reviews: