We get a lot of random mail here at The Toy Report asking us if we'll post something on this new toy or that new gadget by various manufacturers, and typically we ask a toy manufacturer to send us a sample of their stuff so we can have our playtesters evaluate it fully.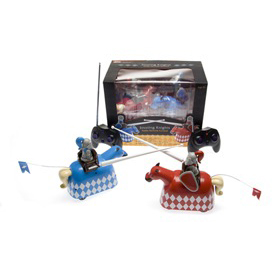 However, in some cases we see a toy so darn cool that we just can't wait to let you know about it, and this is one of those times.  We'd never heard of Bluw.com before Myriam contacted us asking if we'd review some of their toys.  Everything on the site is designed by the company and they have toys like you won't find anywhere else.
This one really caught my eye.  Yup, those are radio controlled jousting knights. The goal is to joust and knock the opposing knight from his seat which ends the battle.
Note, this is not a toy for the very young, as it has small parts and appears to be quite fast and challenging for even adults to joust accurately.  Probably put this one in the 8-12 year old range.
Check out the video of them in action:
Most Commented Posts