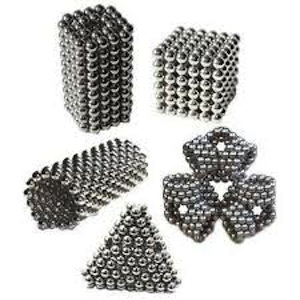 There seems to be a magnet construction balls war going on these days.  We visited the Museum of Science in Boston over school vacation and of course made the requisite stop in the gift shop.  I had trouble getting the boys away from the sets of these little super strong magnet balls that you can use to build all sorts of cool patterns and designs.
Now, The Princess is only four years old and while people say that the choking hazard issue stops at age four, she is still interested in putting stuff in her mouth sometimes.  And magnets can be very dangerous if more than one is swallowed accidentally.  So we skipped the balls for now.
But if you have older kids that are interested in construction toys, you don't have to skip them!
Now, there is a lot of hype in the internet about whose magnet balls are better. Seems like guys are always concerned about their balls, no matter what age.   The major manufacturers up until recently were BuckyBalls and ZenBalls. You can see a good video of the two guys arguing about their balls here:
Now honestly, if you really care about the quality of your balls that's your business I guess. But while these two bozo's are arguing, another company called Magnet Balls comes along, makes magnet spheres in three different colors and cuts the price rug out from under both of them. Honestly, I'd rather pay $20 for a set of magnets than $35 any day. And if my balls aren't 100% perfect to 5 microns, I can live with that.
Click here for more info on Magnet Balls
Related Toy Reviews: