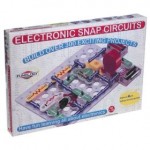 Wow.
Every once in a while, I look at some piece of modern technology and wonder at just how far we've come since I was a kid.  Things we take for granted today like cell phones, iPods, laptops, LCD TVs, and the Internet that would have seemed like science fiction 30 years ago.  Things that are marvels of modern engineering and required many years of substantial innovation and iterative, incremental improvements in design to get us to the super cool electronic items we use today.
Then there are things like the Snap Circuit kits which make me slap my head and say "Why the heck didn't someone think of this sooner?!?"
I was always a tinkerer as a kid, coming up with crazy projects and disassembling broken electronics (including some not broken until I disassembled them).  I had a soldering iron and some various electronic kit projects like build your own crystal radio, but they never actually worked and a simple soldering mistake could ruin components.
If you've got an 7-14 year old tinkerer and the price of the Lego Mindstorms NXT had you considering taking a second mortgage, look no further!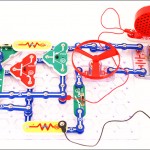 The Snap Circuits Jr, Snap Circuits, and Snap Circuits Pro kits for Jr Engineers are just the thing for budding technologists.  These things are AWESOME!  No soldering.  No breadboards.  No flimsy kinked wires.  Just simple elegant electronic design projects that you snap together.  They come with instructions on how to make each project, then suggest changes you could make to improve or change each one and see how different components will affect the design.  And best of all, the things you make really work!  Motion sensors, alarms, a radio, speakers, a doorbell,  etc.
If you have a 7-14 year old tinkerer, these kits is for them.  Don't know if they're going to be quite as sold out this holiday season as things like Bakugan or High School Musical 3 figures (which seem to have been swept away by locusts), but I would not wait long if you think your little Engineer would like one of these.  It's been consistently up there in the Top 50 Bestselling Toys and Games at Amazon for the past few months.
You can get three different flavors:
Click for more info on The Snap Circuits Jr (or SC-100) which has 50 pieces to make 100 and costs around $25.
Click for more info on The Snap Circuits SC-300 which has 60 parts to make 300 projects and costs around $40.
Click for more info on The Snap Circuits SC-500 which has 75 parts to make 500 projects and costs around $65.
You can get some kits that has all the pieces to upgrade a SC-100 to an SC-300, but you end up paying far more than you would to get the SC-300 in the first place.  NOTE: The Jr model isn't for younger kids, it's just fewer pieces and projects.
Related Toy Reviews: