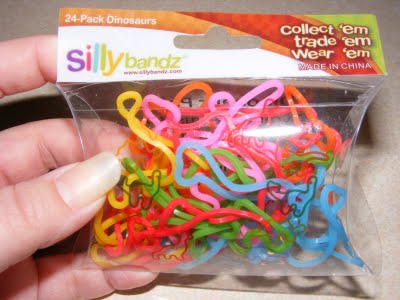 Seems like with every super popular kids toy or trend, there are always rumors of a recall. The shelves empty, news reports that the popular toys are banned from schools, and suddenly everyone is asking if there has been a recall.
We get a decent amount of our readers from web searches like Google or Yahoo and can see a list of all the search terms people use to find our site. In this case, we've been seeing a bunch of searches for things like "is there a silly bands recall" and "silly bands recalled"
If you are impatient, as far as we know, there has been no Silly Bands recall.  In fact, it would be hard to imagine a situation where they would be recalled.  Most recalls involve something like a breakage hazard such as your kids scooters wheels falling off, or something intended for babies or toddlers that can result in strangulation, or something made of toxic metals or something inherently dangerous to all ages such as Jarts.  Seems unlikely that there would be anything toxic about them, considering they aren't intended to be ingested at all, but you never know.
With Silly Bandz we're basically talking about rubber bands here, just not the traditional round shape.  Yeah, it might hurt if you stretch them too far and they snap.  Sure, you could hurt a person's eye with them if you stretch and shoot them.  But they're essentially rubber bands, which have been around for over 150 years now.   We don't expect a Silly Bandz recall anytime soon.
Note that we're talking about REAL brand name Silly Bandz here.  They are specifically made to be large enough for wearing and are made from silicone so they won't shrink when wet.  BUT the huge popularity of Silly Bands have spawned hundreds of knock offs called Fun Bands, Wacky Bandz, Shape Bands and so on and so on.  Some are silicon, some are plastic, some are rubber, some are who knows what.  We would not recommend giving ANY of the knockoff brands to your children.
That being said, you will likely have trouble finding *real* Silly Bands at you local toy retailer, especially if you are looking at discount stores.
Click here for where we've found real brand name Silly Bands at prices under $3 a pack.
Note that Silly Bands are marked as not for kids under three, as they do present a choking hazard when balled up.  Remind your kids they should never put them in their mouth.  Also, remind kids that they should NOT be stretched and used as a necklace either.
Related Toy Reviews: