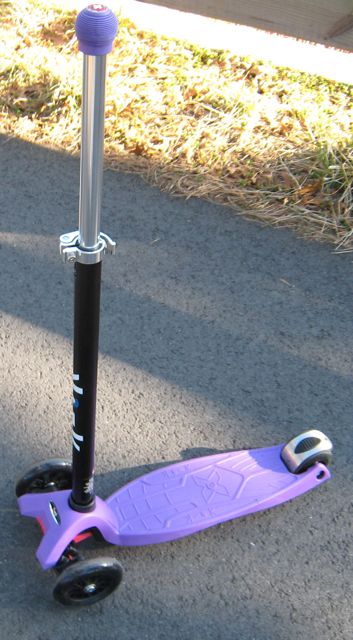 Best Kids Scooter for 6, 7, 8, 9 and 10 year olds – The Maxi Kick
First off, for those of you who don't like to read all the details.  The Maxi Kick scooter is AWESOME.  Rainbow and Speedy are both thrilled with them so far.  Go get one for great outdoor fun.
Some specs:
– The age range for the Maxi Kick is 6-10 .  I can see plenty of larger 5 year olds using the Maxi as well, judge your kids ability for yourself.
–  The weight limit on the Maxi Kick is 120 lbs. Despite that limit, one 170 lb gentleman at Toy Report world headquarters  *ahem* took it for a spin without incident.  However, I certainly wouldn't recommend going against the manufacturers recommendations.
Our boys have grown up on the Mini Kick scooters (formerly known as the Micro Mini) since we bought them as their big 3rd birthday presents.  Click on our Toddler Scooter review, and don't forget to watch the video of 3 year old Speedy whipping across the local tennis courts on our first scooter run.  Or if you want the quick recap, the Mini Kick is for kids 2, 3, 4 or 5 years old up to 45 lbs, and it's the best scooter for young kids, hands down in our expert opinion.
The twins are a little bit on the small side, and we've gotten away with continuing to ride their Minis until after their sixth birthday, but we've recently had to admit they have finally outgrown then.
We've had our new Maxi Kick kids scooter  for a couple of weeks now, but the weather has not been cooperating at all!  We've only been able to take them out twice so far, both on cold days, and it's been rainy and wet ever since.  We've relaxed the "No Scootering in the Kitchen!" rule during the rainy spell, and there have been laps around the kitchen island going on daily.  I think Rainbow might be in the lead in the Kitchenapolis 500 so far, but it's hard for six year olds to keep count.
Mrs TR's video from our first few kids scooter runs are mostly of the boys trying to avoid the Princess as she chases them around on their new scooters.  She put the camera down to avoid any Princess related accidents, so the video and picture choices are a little sparse.  Now the weather has finally started to clear up and we'll get some better video of the kids scootering, but here is a start:
So what's the deal?
The Maxi Kick Skinny
Solid no slip plastic and aluminum construction.  It's aluminum and plastic mix makes it lighter than other scooters, but it's rock solid.
Amazing coasts.  You can see from the video above that Rainbow can go quite a long way at a slow coast without kicking once.
Great steering.  The pilot stick steering lets the kids hang on and maneuver the Maxi Kick easily.
Super fun.  The boys have had a great time on their Maxi scooters so far on the Bike Path.  They're fast and maneuverable.
Pricey, but worth it.  At $149.99, the Maxi Kick is not cheap, especially compared to two wheel scooters for the same age range ($50-$60 for the traditional two wheel metal board scooter).  But I liken it to the difference between buying a Yugo or a Mercedes.  Yeah, the cheap scooter will get you where you want to go, but it's no fun, likely to break, won't last long, and could be potentially dangerous.
So where can you get one?  There are a bunch of options.  You can check the official Kickboardusa.com site for a store near you, you can order them directly from Kickboardusa.com with free shipping (for a limited time, still available at the time of this review) or you can order them from Amazon.com
NOTE:  Helmets are a MUST when scootering.  No exceptions!  Scootering can be dangerous, scooter at your own risk, etc.  The Toy Report strongly recommends knee pads and elbow pads as well.
By the way, what does one call a 6-10 year old?  A 1 year old is a baby, a 2-3 year old is a toddler, a 3-5 year old is a little kid.   A 10-12 year old is a tween.  What the heck is a 6-10 year old?  Just a plain old kid?  A pre-tween? Any suggestions?



Related Toy Reviews: