It's amazing how some childhood traditions continue to last year after year and generation after generation, and friendship bracelets are one of those things.
I remember making friendship bracelets as a kid at camp and wearing ones given to me for months it seemed, until they finally fell off in pieces.  Being a child of the 80's I remember making these bracelets out of gimp, a strong plastic lacing that could stretch a bit
Make A Friendship Bracelet Kit from Alex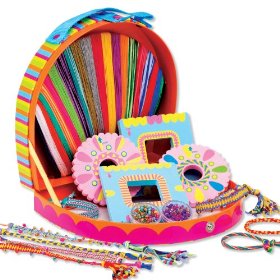 If you are looking for the perfect gift for a seven, eight or nine year old, look no further.  The Friends 4 Ever Bracelet Making Kit from Alex gives you everything you need to make tons of different varieties of friendship bracelets.  It comes with two different looms to make different styles of friendship bracelets, as well as eight different patterns.  There are 22 different colors of floss including solid and multi-colored threads, as well as beads, a beading needle and detailed instructions to making many completely different and unique friendship bracelets.
Click here for more infomation on the Alex Friends Forever Bracelet Kit
Wooden Bead Friendship Bracelets from Melissa & Doug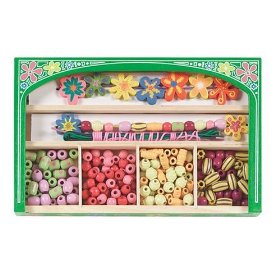 If you have a younger child interested in making friendship bracelets, then the Alex kit might be too complicated for them.  For a four-six year old, you are far better off with a wooden bead bracelet making set.  Small hands make light work of putting beads onto thread and tends to be far easier than trying to weave and knot the patterns required for a thread based friendship bracelet.
Click here for more information on the Melissa & Doug Wooden Bead Kit
Related Toy Reviews: