This is another favorite birthday present (I know, it's practically Christmas and I am still discussing birthday presents. I am officially in denial about how many days until Christmas, please don't tell me!)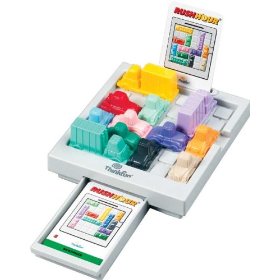 ThinkFun's Rush Hour is a strategy game that has different levels of puzzles, so the newly minted 6 year olds have been rocking the beginner cards, I have a grown-up friend who has been moving steadily through the advanced cards. The cards tell you how to set up the cars in the grid, and then you have to move them around so that the red car can get out of the traffic. You can see the cleverness of having a secret compartment for card storage. The game actually comes with a little bag to store the base and cars in. I am always grateful for anything that fits into the few unused spaces in the game cupboard, ours is packed full, and yes I am asking Santa for a bigger game cupboard. The boys actually received two versions of this game, the original and the Jr. version. The Jr. version has fewer cars, so the puzzles aren't quite as complex, but there are still advanced cards and plenty of challenge (even for the adults around here). In Rush Hour Jr. the object is to free the ice cream truck.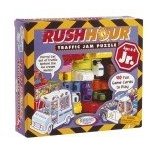 ThinkFun has a bunch of different strategy games. I have a friend who is obsessed with the froggy one. They make great gifts for kids or families. We have all played Rush hour and enjoyed it. OK, the Princess enjoys collecting the little cars and torturing us by threatening to eat them, but I think that counts as fun for the whole family.
Related Toy Reviews: