NOTE: Click here to find the latest info on the 2011 Lego Advent Calendar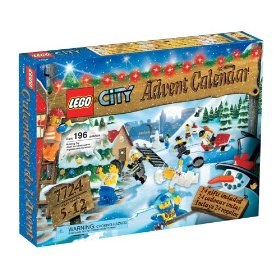 I can't believe I didn't know about this before now! Did you know there is a Lego Advent calendar? Such a great idea. And look how cute:
A little tiny Lego snowmobile and a little tiny Lego guy with a pickaxe . The twins have Lego fever like you read about, and they also have November birthdays, just in time for advent calendar season. I traditionally forget about the advent calendar until the middle of December, which kind of defeats the purpose. But I think a tiny little Lego every day might take the edge off of waiting for Christmas.
Related Toy Reviews: