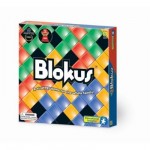 I just ordered Blokus from Amazon as a gift for the boys for Christmas.  It's hard having twins sometimes, as frequently they want to play with Mommy or Daddy and if it's a two person game, someone gets left out each round.
Blokus seems like a great solution.  It looks like a combination of Tetris, Checkers, and Go that you can play with up to 4 people at a time.   It's received a bunch of awards for both being fun and educational, helping teach children spatial relations and whatnot.  It's also gotten rave reviews from users, with a five star rating on Amazon with over 300 reviews.
At $17.99 it's slightly more than most old school board games, but being a hard core Tetris fan it looks pretty cool.  We are Amazon Prime members, so we get free two day shipping no matter what the price.  If you want free super saver shipping, you'll have to order something else to get you over the $25 cut off point for free shipping.
I'll let you know how it's received and how much fun it is post Christmas.
Related Toy Reviews: