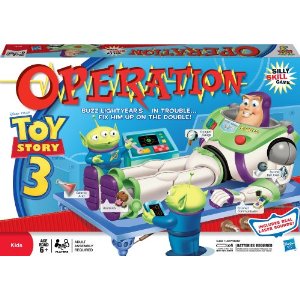 I have decided to stay home today. It has been a busy week and we all need a home day. So, no malls or 4:00 am trips to toy stores. However, as I so my online holiday shopping I will let you know if I find anything worth reporting. The first exciting Black Friday Toy Deal is pictured above: The Buzz Lightyear Operation game – only $10! I am generally opposed to toys that make noise – but Operation holds a special place in my child-who-grew-up-in-the-80's heart. And this version has Buzz Lightyear! And did I mention only $10? I have no idea if this price will last past today.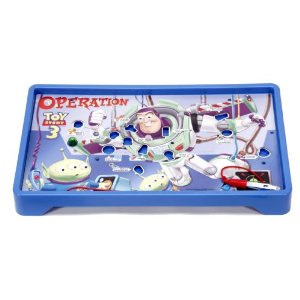 For anyone unfamiliar with the game, the board has tiny openings with various parts of Buzz inside. You have little metal tweezers with which you have to remove the little pieces. The catch is that if the tweezers tough the sides of the openings it makes a loud buzzing sound and it is someone else's turn. Takes a steady hand and some concentration. Recommended age is 6 to 12. I wouldn't give it to anyone younger than 5 because of all the tiny parts. Also the hand-eye coordination required might be frustrating for younger kids.
Happy online shopping!
Related Toy Reviews: