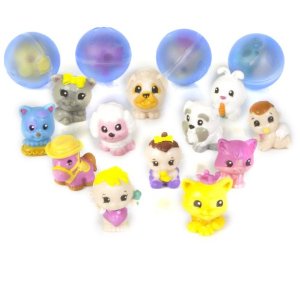 Those of you with young girls, beware the Squinkies!  Well, don't take that the wrong way, they don't appear to be dangerous, except as a choking hazard that is.  But the Squinkies are the latest fashion trend for the little girl set.  If you have a 4-8 year old and have never heard of them, expect to see some talk of Squinkies in the near future.
What Are Squinkies?
Squinkies are essentially squishy pencil toppers made out of silicon.  They are called best called pencil toppers instead of erasers as being made of silicon they won't actually erase anything.  Squinkies come in various shapes of people, babies, animals, and random stuff like birthday cakes and castles.  There are over 100 different ones to collect.  Of course, there are some that are considered *RARE* and hard to find, making you buy more and more and more packs of Squinkies in the hopes of finding the elusive Unicorn to fill out little Princess' collection.
Some packs come with bracelet links, some come with rings, and some come with more Squinkies.  Each toy has an exactly #2 pencil eraser sized hole on the bottom that fits the various accessories.
Other accessories include a gumball playhouse for storage, a Squinkies castle, and a Squinkies cupcake bakeshop.
If you have a little girl in your house who likes to collect things, beware the Squinkies power.  Just when you thought you had every single Littlest Pet Shop critter, or all the Polly Pockets you could handle, it's time to open your wallet again, and again, and again.
Note that Squinkies are certainly choking hazards and should never be given or left around children under three.  The manufacturer recommends that they are only for children ages 4 and up.
Click here for a list of toys in the Squinkies line
Most Commented Posts