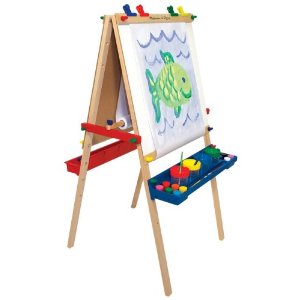 Looking for the best kids easel?  Perhaps you're like us and had setup a dedicated area for art projects.  And perhaps like us, you have a problem with junk collecting on the table.  It's great for projects, but it quickly fills and makes it hard to do any sort of play until it's cleared off again.
The solution?  Get those kids an easel!  We went through a couple of different easels before finding the Melissa & Doug easel.  Our first one was fairly fancy, allowing it to flip from being an easel to a table, with a white board on one side and a chalk board on the other, but no space for keeping paper.  Turns out, white boards and chalk boards are nice ideas, but the kids just aren't that interested.  They now sit in the attic more or less unused.  The kids want to draw with markers, they want to finger paint, and they like to see their pictures hanging up on a wall or fridge, not erased in order to start another one.
The Melissa And Doug kids easel is great.  It has a chalk board on one side, a dry erase board, and a paper roll holder  so kids can draw a picture, tear it off, and pull down a new sheet of paper to continue creating.
NOTE:  The picture is a little misleading.  The easel does NOT come with the pictured paint cans.  You have to buy those separately as an add on kit.  If you're giving this as a gift, buy the accessory kit and an extra roll of paper or two to make the best kids easel gift set.
Click here for more details on the Melissa and Doug Easel, including where to buy with free shipping.
Related Toy Reviews: