When looking for a birthday gift for a child, yours or someone else's, you might not think of getting them an umbrella. But, have you ever seen a child not be delighted with one? They are great fun in the rain, and in dry weather they can be useful for keeping off the pretend rain. We have used them as impromptu tents and mushrooms. They are more fun than you might think. And there are such cute umbrellas these days!
As always, Haba is my favorite:
The leafy roof umbrella has a caterpillar handle and a butterfly perched on the leafy roof. The circus umbrella is like being in your own personal circus tent and comes with a miniature acrobat.
These Kidorable umbrellas are a classic, and you can get matching coats and boots if you want to go all out.
Add for the crafty kid in your life, I love Alex's color-your-own umbrella. A wet weather accessory and a rainy day project all in one!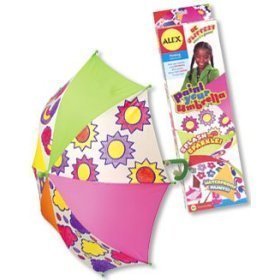 Related Toy Reviews: