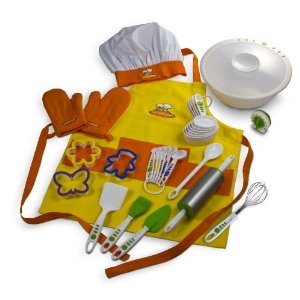 Do you have kids who love to cook? I am pretty sure all kids love to cook, and teaching them how at an early age will serve them (and you!) well for years to come. I just found the Curious Chef cooking sets for kids and I love them. They are real cooking tools, just sized for kids. You can start with their 27 piece foundation set (pictured above). This huge set includes an apron, spatula, measuring cups and spoons, cookie cutters, spatulas, oven mitts and more. Everything a young chef needs to get started.
Looking for something smaller or more specific? Curious Chef also makes a cutlery and serving set, with a super cute apple shaped cutting board, a pizza cutter and various serving pieces and knives for cutting and chopping.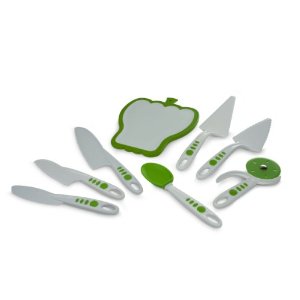 Knives for kids!? Yes! Knives for kids. Their knives are made of nylon and have blunt tips, making them safe for kids and yet still useful for chopping. My kids love to chop vegitables and are much more likely to actually eat them if they had a hand in their preparation. And the physical action of cutting ans chopping is actually great for developing hand-eye coordination and fine motor skills.
There is also a Curious Chef Pizza set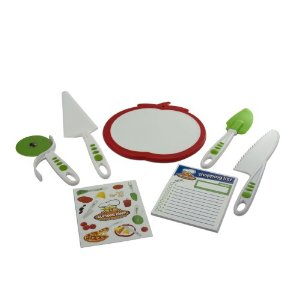 And a Curious Chef Cookie kit.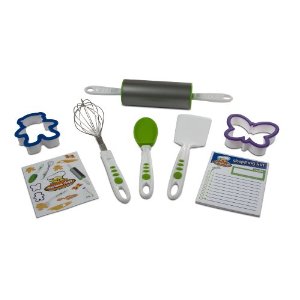 Just imagine the day when you can have the kids make dinner for you! Sound like a dream come true, or is that just me?
Most Commented Posts