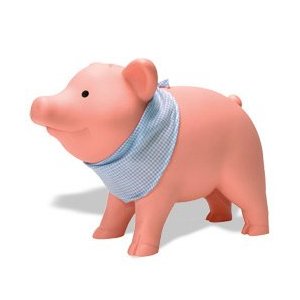 We have what I believe to be an unusually large number of great piggy banks per capita in our house. The reason I noticed this is that they actually get played with on a regular basis. My kids love to empty them out and refill them. The older kids like to recount what is inside and the Princess just likes to dump out and then painstakingly put each penny back in through the slot.  When I investigated I realized just how many interesting banks there are out there – certainly one (or ten) for kids of all kinds. Today will focus on the traditional Piggy Bank. Above is the Schylling Rubber Piggy Bank. We have two of these in our house and they are very popular. The bottom opening has an easier to remove than most plug, which is good for kids who like to count and recount. This one wins major cuteness points. It is pink, but pigs are pink, so I don't think it will be a problem for any pink-phobic kids. It is made of vinyl (I know, it says rubber in the name – not sure why) so it won't break if you drop it.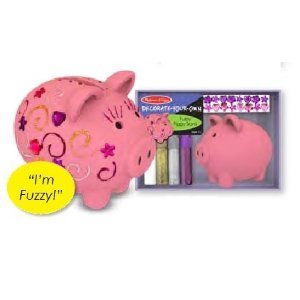 I also really like the Melissa and Doug Decorate-Your-Own Piggy Banks. They have two versions, the Fuzzy Piggy Bank Set seen above comes with glitter glue and stickers. The ceramic Decorate Your Own Piggy Bank comes with glitter glue, stickers and paint. These are great presents for kids who like to make projects but perhaps already have every art supply known to man. I always appreciate projects that have a useful purpose after the artwork is complete.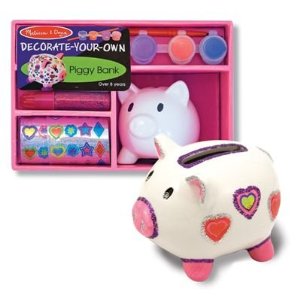 Finally today, for the child who can't get enough pink, the Russ Ballerina Piggy Bank.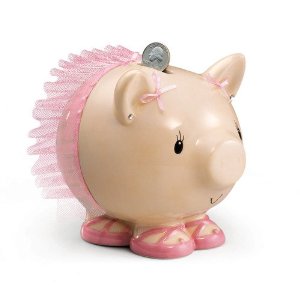 She has a pink tutu and sparkly earrings. Perfect for any Fancy Nancy fans you  may know.
Related Toy Reviews: