Pretend ones, of course! And I am not talking about all that Littlest Pet Shop crap. My boys love it, but I find their huge eyes disturbing and I really don't approve of anything that comes with so many tiny plastic pieces that will surely get lost. Not to knock all such things, I must admit to a deep and abiding love of all things Hello Kitty. I get that they are both Japanese in origin, but how is it that Hello Kitty characters are so cute and the Littlest Pet Shop animals are so creepy? Well, I suppose that is a subject for another day.
I am talking about these wooden animal sets from Selecta.
This Selecta Dog Set comes with his own dog house, bowl, a leash and a sausage (yes, a wooden sausage, because what else would a hungry wooden dog eat for his dinner). Oh, and he has a jacket in case it gets cold. I love him.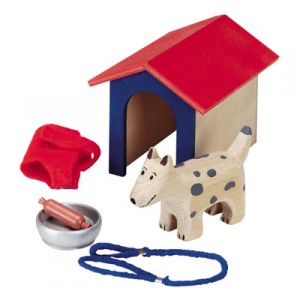 The Cat Set comes with a cat bed, a scratching post, a bowl and, of course, cat food.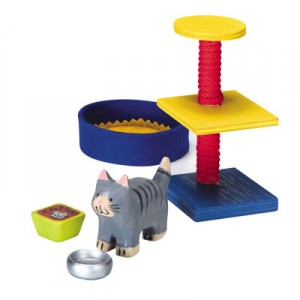 The Rabbit Set may be my favorite, he comes with a hutch, a bowl, and some carrots. The cuteness may be too much to be believed.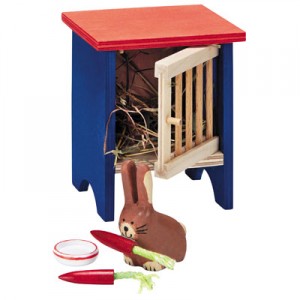 Here you have it, the perfect pets to give as gifts. They come with their own food and shelter and will be treasured by pet wanters everywhere.
Related Toy Reviews: