OK, we have been through baby stacking toys and toddler stacking toys. Now you have a three or four or five year old and you are thinking, haven't they gotten all they can from stacking? Is there really anything left for them to stack? Oh yes, gentle reader, there certainly is. Behold: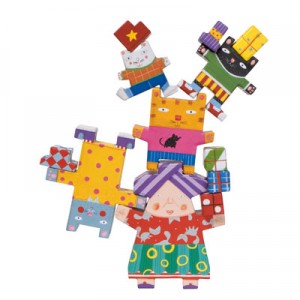 Because what kid doesn't need a crazy cat lady bearing cats and presents for stacking fun. Seriously, we just upped the manual dexterity challenge here, and I think we turned the crazy up a notch too.
If cat stacking isn't your thing, or the child in question has a fear of cats or present and cat bearing aunts, then I suggest the Djeco Bikokabrac house stacking game.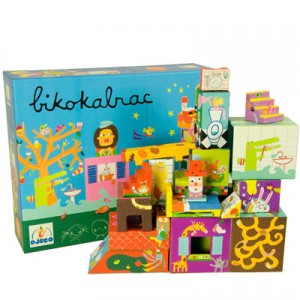 Making it a game adds interest for older kids and speaking from experience, the five year olds are going to think the toilet block is hysterical. Personally, I think the alligator brushing his teeth is pretty great.
Related Toy Reviews: