The Melissa & Doug Sunny Patch collection includes some great new sand toys perfect for the beach (or sand box) this summer.
Every year I like to put together beach bags for the kids. I salvage anything that can be saved from last yer and pickup some new sand toys. We spend a lot of time at the beach in the summer and some simple shovels and buckets see the most use. You can find past sand toy reviews like the sand sac here and sand wheels here.
Well, thus year Melissa & Doug have outdone themselves. I love their food themed sand toys and I know my kids will too since they frequently serve me sand cake and sand ice cream. The first is this Melissa & Doug Sunny Patch Seaside Sidekicks Sand Cookie Set (that is a really long name).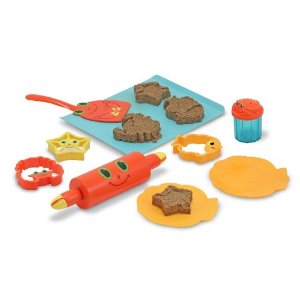 It comes with a rolling pin, cookie cutters, plates and a sprinkle shaker for sand sprinkles. Best of all it comes in its own mesh bag (I love toys that come with bags to help keep them all together).
My other favorite is the Melissa & Doug Sunny Patch Seaside Sidekicks Sand Cupcake Set.
It comes with hinged cupcake molds, a "baking" tray, and different shaped frosting molds. It also comes with a handy mesh bag for storage.  I can just see my kids digging out a sand oven to bake all their sand treats. I can also see Rainbow trying to sell his treats to other beach goers (he is on an earning money kick).
These toys look like so much fun, but the molds maybe a little fiddly for younger kids. I think four and older may have the most fun with these. Have fun digging!
Related Toy Reviews: