I have witnessed three and four year old children (boys and girls) driven to move things from one place to another. Rocks, sticks, logs, toys, balls, other children (I don't recommend this one) are all candidates for being moved from place to place. The wheelbarrow is an invaluable tool for the tot obsessed with moving things around (and they all are sooner or later). For a basic, sturdy, not too expensive wheelbarrow you can't go wrong with this one: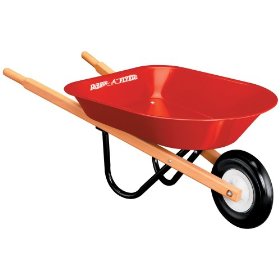 There is also this one if you are looking for something wooden and more all natural. This one is also better for younger kids, less tippy. If you are looking for a gift for a one or two year old this can be used to push around and walk behind long before the need to move objects from place to place strikes.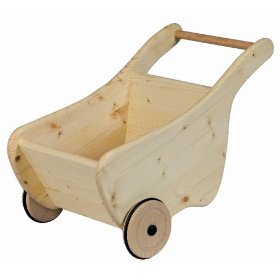 Another favorite is the Haba Walker Wagon. Made in Germany of all natural materials, it's expensive.  It's also very stable, well made, and has plenty of storage for carting stuff around: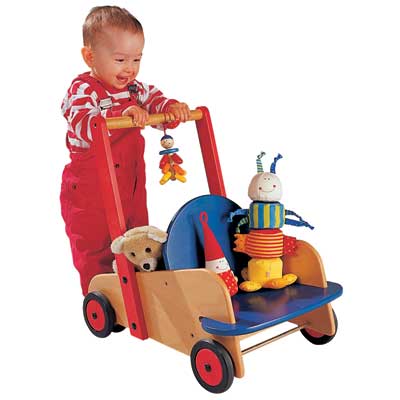 Kids around four and five are also starting to get into imaginative play with little figures. If you are looking for a smaller gift or something to add to the larger wheelbarrow gift I like this guy: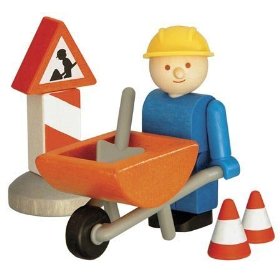 Or, of you want to girly-girl it up a little, this would completely work: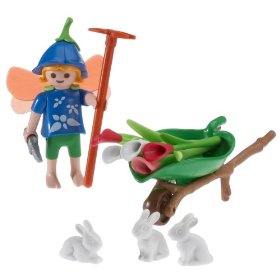 Happy gifting! I find that giving gifts that help kids complete the kinds of tasks that they are driven to do anyway is a great way to give a gift that will be really loved.
Related Toy Reviews: