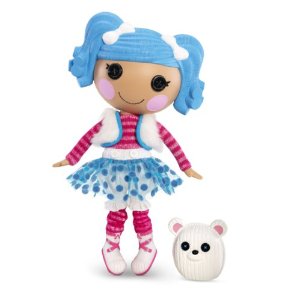 I heard about the Lalaloopsy dolls on the radio last week. It was hard to tell if the dolls are really in demand or if the company is trying to make them become the next big thing. They are the sort of thing that catches on – cute, bright plastic dolls. Made by a company called Bitty Buttons, they are 13 inches tall, about the size of a Barbie Doll. Each doll come with a pet and a back story. The doll above is (supposedly) the most in demand Lalaloopsy doll, her name is Mittens Fluff N' Stuff. She has blue hair and a pet polar bear. The dolls' back story is that they are rag dolls who take on characteristics of the cloth they are made of. Mittens Fluff N' Stuff is made of an Eskimo's scarf, so she has a winter theme.
I asked the Princess to look at them and she immediately demanded this one: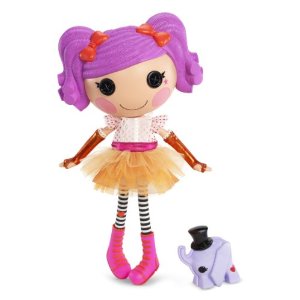 He name is Peanut Big Top. She was "sewn" from a clown costume and so loves to be silly. She has a pet elephant.
This is Spot Splatter Splash: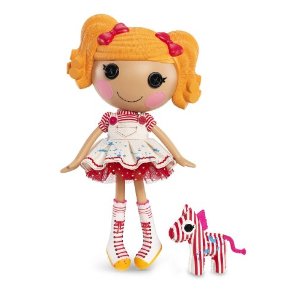 She was made from painter's overalls and has a pet zebra.
The dolls come in cute packages with all their information, including their birthday which is a date with significance for their character. The doll below, Pillow Featherbed was made from a baby blanket so she was "sewn on" January 3rd, International Sleep Day.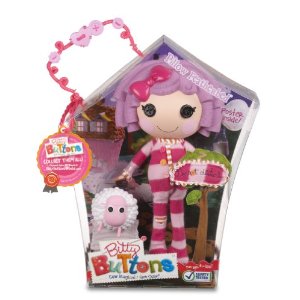 You can also purchase outfits for them.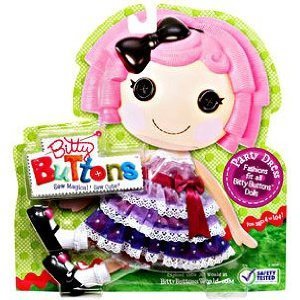 There are reasons I love these dolls and reasons I am not so sure about them. I love them because of the cute, they are certainly cute. Really, really cute. I love that they are rag doll themed and that they are young looking. I would absolutely choose one of these dolls over a grown-up looking doll like Barbie or Bratz. The only thing that really bothers me about these dolls is the black button eyes. Has no one at Bitty Buttons read Coraline? Or even seen the movie?
Related Toy Reviews: