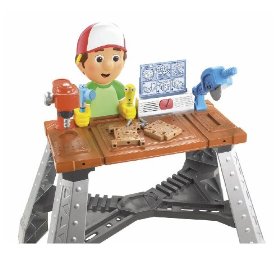 December 13th UPDATE:  It appears that the demand for the Handy Manny Work Bench was woefully underestimated by Mattel and pretty much everywhere is out of stock and will not be restocked until Spring.  If you are looking to get one before Christmas, click here to see the only place we've been able to find them available
.  Prices are still decent as of  this writing and you still have about a week and a half left for shipping.
Ok, this is darn cool.  This new Handy Manny Repair Shop is an idea whose time has finally come.  I sure would have loved something like this when I was a kid but of course, it just came out a few days ago and I suspect that I'm a little too old for it now.
It's a work bench with a couple of Handy Manny's tool friends included, his friends Pat the Hammer and Felipe the Screwdriver, plus a drill and a circular saw attached to the bench itself.
There is a little slot that accepts one of the 20 "blueprints" the tool bench comes with, and when you put it in, Manny speaks to you and takes you through the steps to build something out of the 20 pieces the set comes with, things like a birdhouse or a robot.  You need to cut certain pieces and attach and hammer others to make the toys.  It has realistic sounds that go along with it when you are sawing or drilling.  Check out the pics of some of the items you make with the set:
Sure is a shame this did not come out a couple of years ago when the boys were younger.  I'm debating whether it might be a little too young for our boys as they are pushing seven years old and have kind of moved past wanting to play with pretend tools and are far more interested in doing real projects with real tools these days.  This seems to be a perfect 3-6 year old for the aspiring builder Handy Manny fan.  Might show it to Speedy (who is the building nut in the house) and see what he thinks.  At six and a half he's been doing Lego sets rated for 8-12 year olds, so he might find this a little trivial at this point.
Here is a video of the toy earlier this year when it was still at the prototype stage, so it doesn't show all the cool things it can build and Manny actually talking and all that:
Important Note:  While many images online at various stores show pictures of Manny's Tool Bench with all his tool friend nicely arranged, it apparently DOES NOT come with all these tools, but rather spaces to store them all should you want to buy them separately.   I'd strongly suggest you pick up one of these the Handy Manny Tool Set to go along with the toy work bench and have all his friends there to help.
Most Commented Posts