The Etch a Sketch is turning 50 years old!  While it was invented a few years earlier in Europe and shopped around for investors and a manufacturer, the official birthday of the Etch-A-Sketch is July 12, 1960.
The Etch a Sketch was invented by Andre Cassagnes, an electrician in France and was originally called Telecran.  It almost did not see the light of day.
Andre, who is also known for his kite designs, came up with the idea in 1955 after seeing an electrostatic charge make aluminum powder stick to a glass plate.
He didn't have enough money for a patent, so he took a loan from an investor who applied for then had one of his employees apply for a patent.  Thus the original patent for the famous Etch-a-Sketch is credited to Arthur Granjean, who is frequently mistaken for the inventor of the famous children's drawing toy.   He also came up with the name for the Etch-A-Sketch on the patent, L'Ecran Magique, which is French for Magic Screen.
The investor, Paul Chaze, took the toy to European toy fairs, no one was interested. The good folks from Ohio Art got a glimpse of it toy history was born.
And so, in honor of that famous invention, we give to you a sampling of some crazy good Etch-A-Sketch art: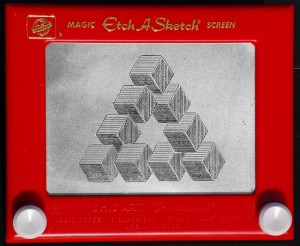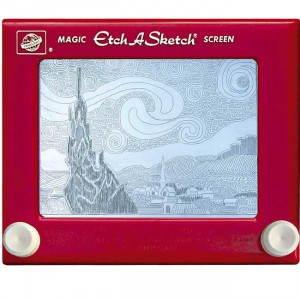 Related Toy Reviews: