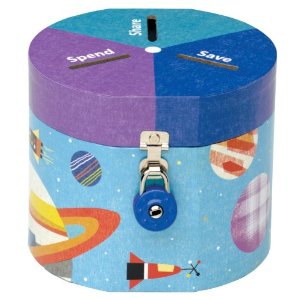 As I believe I have mentioned, we have tons of coin banks in our house and they get a fair amount of use in all kinds of ways. I wouldn't suspect that coin banks would be played with so much, but the kids get them out to play with them all the time. Their actual money they are saving for future large purchases (Lego Death Stars, American Girl Dolls and the like) is kept in none of these banks (it kept getting lost because of all the playing). The actual saving banks we use simple clear glass jars with a paper taped to them on which we write the current total whenever we add money. I was thinking that there must be a cuter way to accomplish simple money storage. Yes, I realize this is what actual banks are for, but I think that a savings account is too abstract for kids under 10 years old. Being able to see and touch your money is so much more meaningful to younger kids. And this way we get to do all the math ourselves – yay math!
Above you see a simple bank from Mudpuppy. They are laminated cardboard printed with non-toxic inks and they come in themes to suit any kid. They have a padlock to keep out larcenous siblings (with two keys so Mom or Dad can keep one for lost key emergencies). They are divided into three sections: spend, save and share.  I love this! I love that it starts kids thinking about simple money management so early and that it gives you a way to introduce the concept of charitable  giving. The one above is the Mudpuppy Space Money Bank. I also really like the Ballerina Money Bank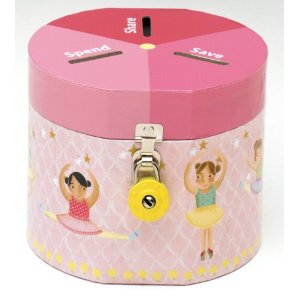 and the Robots Money Bank.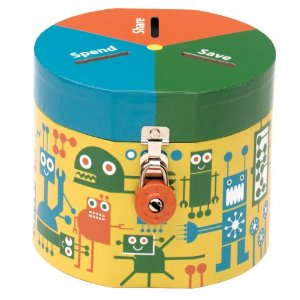 If you are looking for something for a younger child, I really like this Schylling  Curious George Tin bank. It comes with a padlock (and two keys). I love the retro-look of this bank, great for Curious George fans.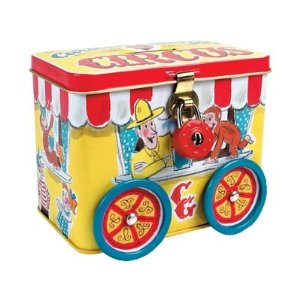 Related Toy Reviews: