Last year in her Never Fail Gifts for a Two Year Old, Mrs. TR highlighed a couple of wooden train sets that made the perfect gift for a 2-4 year old. I have yet to see a little kid under 4 not run straight for a wooden train table in a store or doctors office waiting room and love running the various trains along the tracks. The boys at 6.5 year old still love playing with the wooden train sets they've had since they were 2 years old. We have a joke in our house that goes like this.
Rainbow or Speedy: "Why does Daddy loves trains?"
Joke Victim: "Why?"
Rainbow or Speedy: "Because he's an Engineer!"
You see it's funny because it's true.
If you are looking for the perfect gift for a toddler, look no further! You simply cannot go wrong with a standard sized train track set. Why? Because you can never have too many train tracks, or trains for that matter! With most toys, if you receive two of them as a gift there is not much to do besides regifting or attempting a return which can be difficult without a receipt. With wooden toy trains you just add them on for a bigger track and twice the fun!
Well, the specific set Mrs. TR called out in the original Wooden Toy Train article do not seem to be available at most stores anymore, so I though we would highlight a couple of newer sets that fit the bill.
All the sets here are considered Brio Compatible and Thomas Train Compatible, meaning they have the same track and connector size as the most popular train sets and can all be used together.
Melissa And Doug Train Set


First is the track daddy VALUE of toy train sets. The Melissa And Doug Train Set offers a giant set with 128 pieces for a shockingly low price for a set this size.  Take a close look at the picture of the set for everything you get with this one. Comes with four trains, a magnetic crane, bridges, tons of tracks, little trees, a wheelhouse, basically the works.  And the Melissa And Doug quality show through in this set.  You will not find anything close to the size of this set in this price range.  Most train starter sets have 15-20 pieces for $30.  Think I'm kidding?  Then check out the Melissa And Doug Starter Figure Eight Set by clicking here and what you actually get for $30.   Not even close huh?
Brio Panda Train Set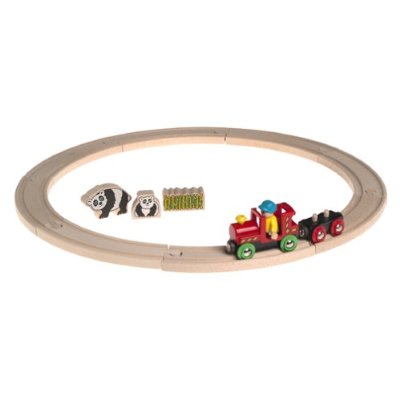 So if your in the market for something small then you can not go wrong with a Brio Panda Circle set.  It's small and unobtrusive, and at only around $25 it will not intrude on your wallet quite so much either.   It has a small circle, a couple of trains, a couple of pandas, a little guy to drive the train and some grass that I really do not think pandas are capable of digesting.  It is cute though.
Toss in a couple of extra trains at $6 or $7 a piece to get you over the Free Shipping $25 hump and you have a nice little train gift set.
Whatever you do, make sure you order at least one box of Suretrack train track clips onto your order.  Wooden tracks tend to fall apart easily, especially on an uneven surface such as a carpet or while under the attack at the hands of a child under 3.
Related Toy Reviews: