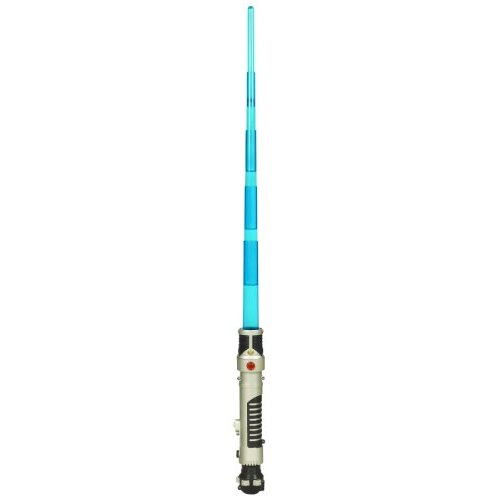 Picking the right light saber can be quite the challenge.  There are lots of options and some are far better than others.  Of course you want to be the parent, friend or Cool Fun Aunt that picked the "Best Light Saber Toy Ever!" right? Being a hard core geek dad, I spent a great deal of time comparing and evaluating the different light saber options before Christmas.
The two winner light sabers can be seen in action in the video below.
First, in this corner, I give you the Anakin Skywalker Star Wars Clone Wars Force Action Lightsaber (in Blue), wielded by Speedy the 6 year old.
And in the other corner I give you the Mace Windu Purple version wielded by the surprisingly fearless lightweight 22 month old Princess!
There is also the Obi Wan version, virtually identical to the Anakin version (Blue) but with a slightly different handle. Each of the above is spring loaded, lights up, flashes and makes realistic noises (well, realistic for a fictional science fiction energy sword) when swung or struck.  For around $20, you can't go wrong as a gift for your favorite Star Wars fan.
Note, there are bad versions of the good lightsabers that you want to avoid.  One, the Star Wars Clone Wars Force Action Lightsaber Force Unleashed is wholly unimpressive, where the "spring action" is a couple of spikes that spring out from the handle.  Totally lame.  Another is the Count Duku version, which besides the terrible character name has a bizarre angle to it, which makes it hard to use in a fight.
There is also the Star Wars Clone Wars Ultimate Lightsaber kit, which lets you combine 60+ pieces into different light saber configurations.  Note that this doesn't "spring" open like the ones above, but that might be better for many households just for that reason.  I actually said to Rainbow the other day "Do NOT point the closed Light Saber at someones crotch, EVER!"
Note, if you REALLY want to go all out, there are some expensive replica Light Sabers that actually look pretty darn good in a dark room when lit and can stand up to some friendly sword play.  The don't pop open like the above ones, but they look great.  The least expensive is only $80, for which you can have your very own green Master Replicas Yoda Force FX Lightsaber.
Note, the Force is strong with this one…
Most Commented Posts