As you may have noticed from our reviews, The Toy Report favors toys of an organic nature, toys outside the mainstream, toys that you normally don't find at the big box toy stores.  We love off the beaten path toys from shops like Magic Cabin, Oompa and manufacturers like Haba.  Sure, we like mainstream toys such as Lego, Playmobil and Playdoh, but shy away from the over branded Disney/Dora/Bratz plastic junk they try to push on you at the major toy chains.
We attempt to avoid watching TV that has violence or major advertising, sticking to PBS and recorded shows off Noggin and Nick Jr where we can fast forward through the commercials.
We send the boys to a Waldorf school out of a healthy respect for allowing our children to grow and learn in a natural and nurturing environment without the constant pressure of pop culture envy overwhelming them.
So far we've been rewarded with some great, well adjusted, polite, friendly, damn fine kids.
A few weeks ago at bedtime, Speedy says the words I've been dreading for a couple of months now… "Daddy, at school today, Marcus had a Bakugan."
"Really? At school?" I say, knowing full well that they don't allow such items at school.
"Well," said Speedy "not at school, after school.  It was in his coat pocket after school, and it was red and when you touched it to metal it turned into a dragon!"
"Not just any metal" shouts Rainbow from his bed across the room, "it has to be STEEL!  It can't be a coin or foil!
"Daddy, can you get us some Bakugan? We really want some!" They both say almost in unison.  "I want a green one and a white one and blue one…"
_______________________
What Are Bakugan?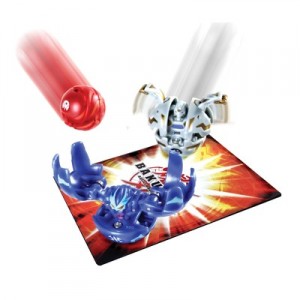 Bakugan are the latest toy craze among the 6-12 year old set.  As the writer of a toy blog, I keep my eyes on the latest toy trends and I've been seeing more and more about these infernal collectables for months now.  Think Pokemon on steroids wearing a laser robot jetpack missle launcher transformer and you start to get an idea of how this appeals to young boys.
The main force behind it is the Bakugan Battle Brawlers game, which consists of little boy hand sized plastic balls (called Bakugan if you can believe it) which pop open to transform into small fighting creatures when they roll onto special spots on the Bakugan Cards.  There is a magnetic clasp inside each ball that allows it to pop open into it's creature form when it's placed on a metal surface (such as hidden inside the Bakugan Cards).
In a game each player lays their cards out in turns with the rule that they must have one full edge touching another card (think Dominos).  Then the players take turns shooting their Bakugan onto the cards (think Marbles).  When one Bakugan from each player stands open on a card, they "do battle" by comparing the "G Power" values shown on each Bakugan adjusted by different values listed on the back of the card for each different possible color Bakugan. (think Pokemon).  The winner of the battle takes the card and both Bakugan and play continues until there are no more cards.
There are some other rules to cover other eventualities, such as a Bakugan opening when it's not on a card, knocking an opponents Bakugan off a card, but you get the idea.
______________________________________________________________________
Whose Idea Was This Anyway?
The marketing power behind the concept is best summed up in the company press release introducing the Bakugan franchise.  It's obvious that a great deal of thought and coordination went into this tweeny boy full on marketing assault:
TOY AND ANIMATION INDUSTRY CONSORTIUM COLLABORATES ON NEW BOYS ACTION FRANCHISE AND FORMS JOINT PRODUCTION COMMITTEE

Nelvana and Spin Master Toys partner with Sega Toys, TMS Entertainment and Japan Vistec on Bakugan

(Cannes, France) In a move that represents an unprecedented synchronized worldwide launch for the toy and TV animation industries, Nelvana and Spin Master Toys, along with Japanese partners Sega Toys, TMS Entertainment and Japan Vistec, are pleased to announce an agreement in principle on the co-development of an animated series and related toys, as well as the formation of a joint production committee.

Partner collaboration at the earliest stages of development positions a property for creative and commercial success, but to our knowledge, this has yet to be achieved on a truly global scale, said Doug Murphy, Executive Vice President of Business Development, Nelvana. Nelvana is pleased to join forces with Spin Master and some of the best Japanese creative talent on what we believe will become the next generation of boys action.

"Spin Master is thrilled to be a part of such a groundbreaking partnership," says Ronnen Harary Chairman & Co-CEO Spin Master Ltd. "Bakugan combines unique characters, fast-paced action and strategic play which will make for a comprehensive licensing program and an exciting new animated series for kids."

The partnership's first project will be a new boys action franchise called Bakugan. Targeted at boys ages eight to 12, Bakugan will be a character-rich animated series as well as an action game featuring cards and marble-like balls that transform into multiple collectible characters. The game will allow players to compete against various opponents, select from a wide range of strategy options and, combined with card game features, will create an entertainment experience with depth and long-term potential.
______________________________________________________________________
Is Bakugan Mania Bad For Kids?  Is Bakugan Bad For Parents?
As you can see, someone realized that they could easily duplicate and surpass the craze last seen with Pokemon if they came up with a closely tied Toy/Game/Video Game/TV Show merchandising experience carefully and precisely targeted at everything a "tween" boy wants and likes.
And boy did they come up with a doozy.  If Bakugan mania hasn't swept through your town yet it soon will and woe be to the parent who finds themselves Bakuganless during this Holiday Season.
From an caution parenting perspective, outside the potential high cost of this addiction, there is a something to be said for the educational and creative play value of the actual Bakugan game itself:
Aiming and rolling physical Bakugan balls is a better hand/eye coordination experience than most video games tend to be.
Adding and subtracting the points to see who wins each "battle" is a great way to learn basic math skills.
Memory skills and value strategy of remembering which point values are on which card for which color Battle Brawler
Once they're done with the game, the kids tend to make up little adventure stories and fly their Bakugan around the room saving the downtrodden and defeating the bad guys.
Note that some parents have commented that Bakugan is in league with the devil in the same sense that Harry Potter is in league with the devil.  Magic, strange mystical symbols, ability of mystical creatures to appear and disappear, you get the idea.  If you're someone who is bothered by the religious implications of something mystical that isn't in line with church doctrine, you might want to avoid the Bakugans.
Also Note, Bakugan balls are quite small, about the size of a superball.  Bigger than most marbles, but smaller than a walnut.  They are most certainly a choking hazard and NOT for children under 3.  Use caution if you have small children around these.
______________________________________________________________________
The Locusts Hit The Big Toy Stores Before Me
With the Boys birthday fast approaching, I decided to stop at Toys R Us after work to pick up some Bakugan for them, only to find that the rather small Bakugan section was completely empty of anything Battle Brawler game related.  Since there was a K-Mart close by, I decided to run in there and see what they had.  Same problem, a completely full toy isle with the small Bakugan section of it picked clean as if by vultures.  Target had a couple of Bakugan backpacks, travel cases, and static action figures in stock, but no Battle Brawler game pieces either.  Gone, all 100% gone and it's was only late October, not even close to Christmas.  Tween boy parents has swept through town like locusts, leaving nothing in their wake.
The Internet to the rescue right?  Well, kind of.
Prices were high, with Bakugan Battle Packs and Starter packs two to three times their retail price or higher.  However, after some careful searching, I was able to find a Bakugan Battle Pack on eBay for $29.99, close to it's retail price of $22.99.  Then I spotted a couple of Bakugan Starter Packs actually in stock at Amazon for only $15.99 each.  Not to be confused with the ones available from Amazon Third Party Sellers for $22 and up, these are actually in stock by Amazon and qualify for Amazon Prime or free shipping if you break the $25 per order barrier.
Folks, it's November.  If you have a 6-11 year old boy, I'd strongly advise you to buy Bakugan NOW for the holiday season.  If your town happens to have somehow avoided the Bakugan Craze Fever, just resell them on eBay come December 22nd for either a profit or to make some poor beleagured parents Chrismas miracle come true.
Remember, you don't want to be that parent camping out in front of Toys R Us in mid December praying for the Bakugan fairy to visit the store or paying $100+ on eBay to get a single starter set overnighted.
Last I checked, this Bakugan Battle Brawler Starter Set was actually in stock for $15.99 at Amazon.  I'd  suggest grabbing some up before it's too late.  Also, click here for the search that found some $34 Bakugan Battle Pack at eBay.
Related Toy Reviews: