There is something about standing at a table playing with water that kids love.  Every once in a while we make the trek into the Children's Museum and they have a great room with all sorts of fun things to do with water and soap.  There is a bubble making station, a place to make whirlpools, and the like.
If you're looking for a little cool fun in the summertime, a kids water table might be just the thing.  Like it's close cousin the sand table, you can occupy a toddler for far longer than you would expect by letting them play and pour water around.  Combine it with a toy fishing set and some nets and you might be able to have a nice relaxing afternoon in the hammock while the little ones splash.
There are a bunch of options out there for these tables, here are some of the better choices.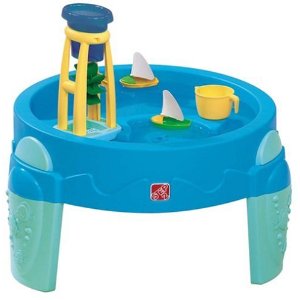 The Step2 Kids Water Activity Table is always a good choice.  At around $45 it's got everything you need for some good outdoor fun.  Or indoor if you're very brave and don't worry about water damage to your floors.  There is a tower with a water wheel, cups for pouring, some boats, and different depths to keep your toddler playing for hours.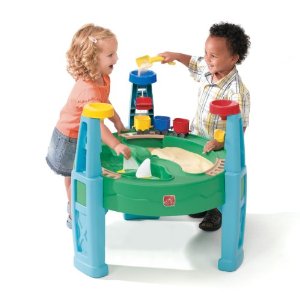 Step2 also makes the Sand and Water Transportation Table pictured above.  For about $10 more than the regular water table, you get two sections to keep the sand and water separate, a little train for transporting water and sand around the table, and three different water wheels for playing and pouring.  It certainly has more to do, but if you think FOR A MINUTE that your toddler will be able to resist the urge to mix the sand and water, you are sadly mistaken.  But a mud table is even more fun, and kids should be kids so I say go for it.
But if you want the ULTIMATE toddler water play table, you'll have to look here: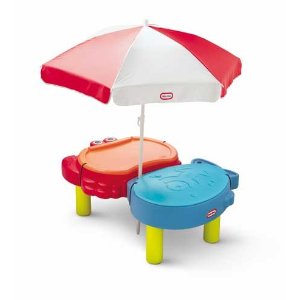 The Little Tykes Sea and Sand Table has it all.  Both sand and water with good separation, a selection of cups and water towers and such, and an umbrella to keep the little ones out of the sun while standing at the table for hours.  Unlike the smaller tables above, this one has space for four kids to play very comfortably and not get in each others way.  Of course, it's also more expensive than the other two.   But if you want to keep your toddler busy while you sit in the sun and read, this is the table for you.
Related Toy Reviews: