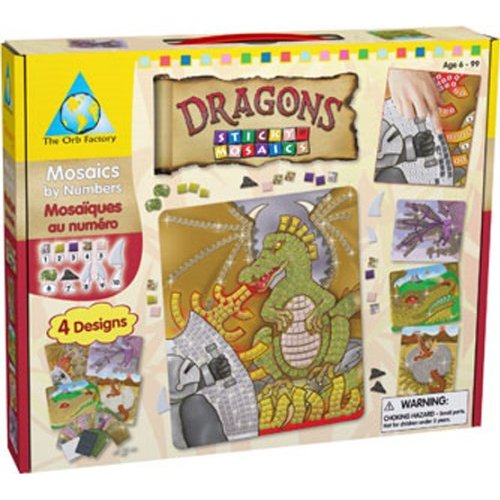 My sister gave the boys these two sticker mosaic sets from The Orb Company for their birthday last year and we've been breaking them out about once a month when we're stuck indoors and need a project to keep busy with.
We have one Dinosour sticker mosaic set and one Dragon sticker mosaic set.
They're really not good for toddlers, as the Princess really just can't figure them out at all, but the boys seem right about the perfect age for them.
Think paint by numbers, but without paints and all the mess.  They each come with 4 picture plates and a lots of pads of little square raised stickers, 10 different types in all which are numbered to tell you which ones go on which spots on the pictures.
Speedy has been doing the dragon stickers and Rainbow the dinosaur stickers.  The Princess has so far been content to stick and unstick the same four little squares onto the box and instruction sheets over and over again, which helps.
We pulled them out again on Monday when we had the last (hopefully) school snow day of the year.  Snow days are great, but not so much fun when they turn to rain in the middle and ruin the outdoor fun!
Most Commented Posts