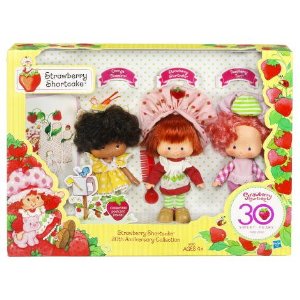 I was a child in the eighties. I had many, many, many Strawberry Shortcake dolls. I even had an actual record of Strawberry Shortcake goes to Big Apple City that I listened to over and over and over (sorry Mom!)
Well, all this makes me officially old because Strawberry Shortcake and her pals are 30. The good news is that you can now get a 30th anniversary set of the original three vintage style Strawberry Shortcake dolls. The set includes Strawberry Shortcake, Orange Blossom and Raspberry Tart. The Princess is so getting these for Christmas.
As you may or may not know, Strawberry shortcake has been recreated in Polly Pocket's image and not for the better. They have tried to make her look more like a tween and while she is nowhere near as offensive as say, those terrible Bratz dolls, they lack the charm of the originals.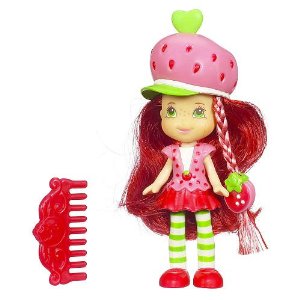 Full disclosure, the Princess has a few of the new style strawberry shortcake dolls and she loves them. They smell good and are a perfect size for her 3 year old hands. I don't think they are as nice as the larger, original  dolls, but then what do I know, we have already established that I am ancient.
I may be too amused by the fact that Raspberry Tart has been renamed Raspberry Torte. Because we wouldn't want to imply anything about the fruit scented plastic doll.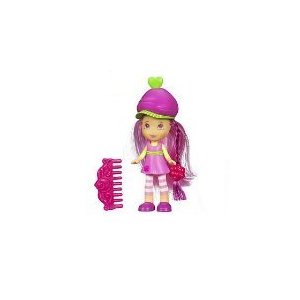 I am a fan of the new non-doll Strawberry Shortcake toys, especially the Strawberry Shortcake RC Vehicle. I am not generally a huge fan of this sort fo thing, but they are always aimed at boys. I think it is nice to see a remote control car clearly meant for girls.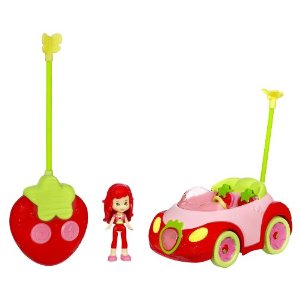 Related Toy Reviews: