It is Really Great Bath Toy week at Toy Reporter HQ. Dontcha just love these Dirty Dogs? The dirt magically disappears in the warm bath water.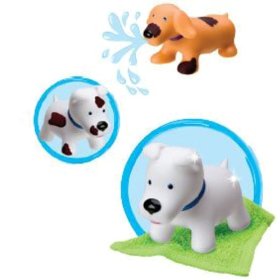 I can envision these being used as bribes (I mean rewards) for reluctant bathers. "You wash the doggy while I wash your toes."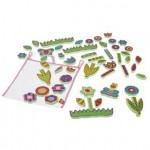 Alex makes heaps of great bath tub toys. This flower garden looks like fun and comes with its own storage case. You can stick
them to the tub walls and water them to your hearts content. This is an actual conversation heard in our bathroom last night:
Rainbow: "Don't give the flowers too much water!"
Speedy: "They are bath tub flowers, they can't have too much water"
Can you tell we may have had a problem with over watering houseplants?
One more R.G.B.T. from Alex:
It comes with its own bubble bath and, like an egg beater, churns up lots of bubbles. The handle is big enough for little ones to turn. It is a scientific fact that bubbles make everything more fun.
Related Toy Reviews: