Have I mentioned my huge crush on Mo Willems? I have a terrible literary crush and I am loving everything he writes. The most recent addition to our personal collection is this book, Time to pee!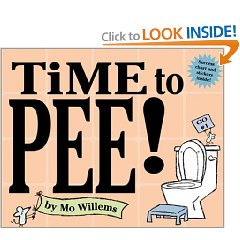 Imagine, a book about using the potty that never actually uses he work potty, a word that doesn't bother me particularly, but I know it irritates others and I can see their point.
We had a bunch of these potty themed books when the boys were at this stage and I never found one I liked. They are all too cloying or had bad rhymes or were just irritating. Well, leave it to Mo to write a brilliant one. It is really like one big "Hooray for peeing in the toilet!" with an army of intelligent mice encouraging your child to pee in the potty. (I think I may have just made it sound creepy. It is cute, trust me). The mice hold signs that say things like "Go for it Dude."  It offers practical information like "Boys can stand. Girls should sit."  It also tells kids that "everything will still be right where you left it," something that I am sure concerns kids and worry over what will happen to the toys has surely cause many an accident.
It comes with a chart inside the book cover and stickers. The princess really isn't old enough to appreciate a sticker chart, but I know older kids who love them. I like that while some stickers say "Hooray!" or "Yipee!" others say "Almost!" and "Oops!" and my favorite sticker "Nice aim!" I like that the stickers are for trying, not just succeeding. As anyone who has gone through this with a child knows, there is a lot of trying before they get all the pee in the potty.
Related Toy Reviews: