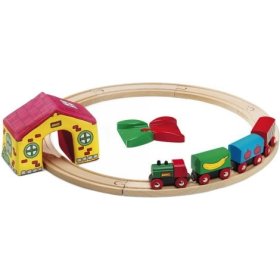 Toy Trains. Two is all about wooden trains. I always give kids trains when I need a present for a two year old and they have never failed to please. Something about how they line up and connect together, or about how you can push them all together along the track. Maybe it is the Chugga-Chugga-Whoo-Whoo sound effects that go along with them (or Chuff-Chuff-Woo-Woo if you are a Kipper fan, and I am). Now trains come in all sorts, but I like the wooden Brio or Brio compatible train sets. You can buy them in huge elaborate sets, but don't. Two doesn't need that kind of complexity. A simple wooden train circle or track figure eight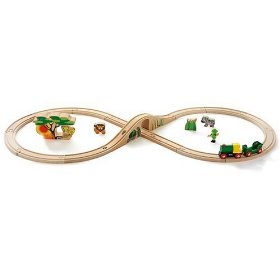 set is perfect. Oh, and please don't buy the motorized trains. Half the fun is pushing them along the track. Watching them move on their own may be fun for a six year old, but two year old's really want to do the pushing.  Get them loving the push trains as a toddler then get them some mechanical trains around age 5 or 6.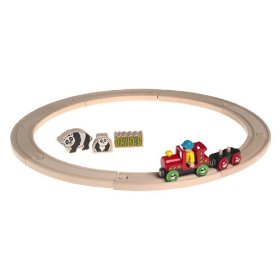 I have given this Brio Circular Set to at least five different two year olds and it has always been a big hit. When a friend had her second baby I sent the panda train set as a big brother present along with the baby gift. She called me to thank me because it kept her two and a half year old busy for ages while she took care of the new baby. Trains. If you are in need of a birthday present for a two to three year old, look no further. You can't go wrong with trains.
Oh, and a book to go along with the trains? I like these below.  Click on any of the images to see more about them.
Related Toy Reviews: