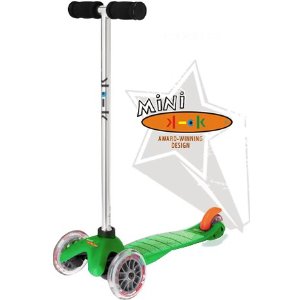 I haven't checked in with our favorite scooters in a while – our Kickboard USA mini-kick scooters are still, years later, in great shape and they see plenty of use. But I happened to notice that they now come in some awesome new colors. The mini-kick scooters are really the best scooter for little kids (2 to 5 year olds) because they have an ingenious turning mechanism that makes them very difficult to tip. When you lean the handles right or left the wheels curve very gently. No sudden turns means far fewer skinned knees and elbows!
I am in love with the bright green mini-kick scooter pictured above, and don't you think it would be perfect with this Bell Dragon helmet?
For the Pinkalicious  in your life you can go with the super cool pink scooter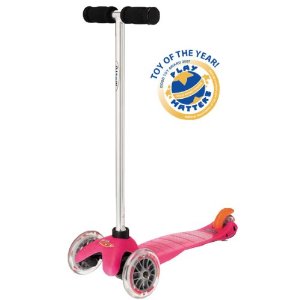 and this adorable Bell pink ladybug helmet.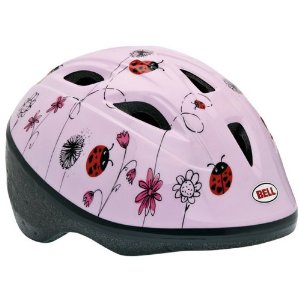 Other fun colors include aqua, orange and the original blue. Seriously, I think this is the best scooter you can by for younger kids. Our kids (and all the kids who have ever played at our house) have loved ours and they are in shockingly good shape considering the abuse they have taken over the past 6 (6!) years.
Related Toy Reviews: