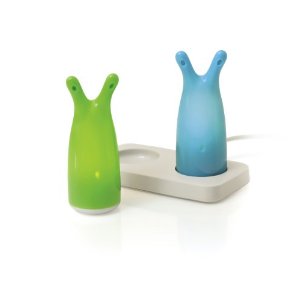 A few years ago the boys wanted night lights they could take to bed with them. We finally found some kids night lights at Ikea for their 6th birthday.
I recently saw these OXO night lights and I know what to get if we need new nightlights.  I love these blue and green OXO Candela Tooli lights. They are rechargeable and have a safe recharging base that has no exposed electrical parts. They will light for 8 hours and can be lighted while recharging (in case you forget to charge it during the day). They also come in orange and pink. Having twins, a set of two is perfect for us, but you can also get a single OXO Candela Tooli.
Now, are you ready for the best one? The new OXO zoom light.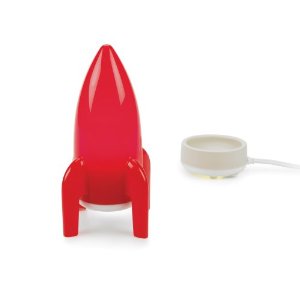 Awesome, no? I know so many kids who would love to take this light up rocket to bed. I think these sorts of things make great presents for kids when you don't really know what to get them. Great for a wide range of ages and you don't have to know whether they prefer pirates or dragons or princesses or baseball.
Related Toy Reviews: