I have already confessed my love for the boon animal bag in my Stuffed Animal Storage post. One of the reasons I love it so is that the stuffed animals don't seem terribly miserable inside of it. Sure they get sat on, but any stuffed animal who has had some coveted time on the bed has been squished plenty and I don't think they mind that so much. Not having bones must help with this. (Can you tell we have been reading Toys Go Out again). What I really object to in stuffed animal storage is making the snuggly toys look as if they are trying to get out.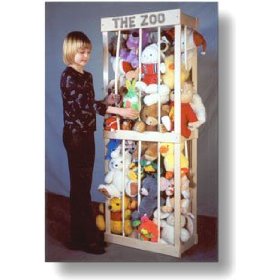 I think jail is completely the wrong way to go with stuffed animals. What could they possibly have done to deserve this?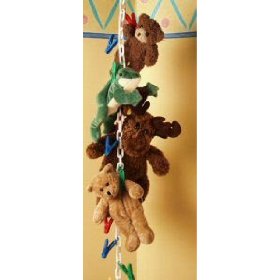 Hanging from a chain seems unpleasant, even if you have no bones.
The other version of this is hanging from a tree. I don't think this is better but it is somehow more disturbing. Like they grew there.
There is  nothing wrong with an old fashioned toy box, but I think boon gets points for style.
Related Toy Reviews: