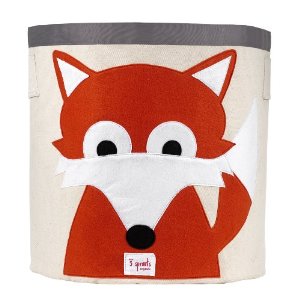 Not just toy storage bins, but the most beautiful toy storage bins I have ever seen. And they are organic, did I mention that? Beautiful, organic toy storage. It is like a non-denominational holiday miracle.
They are made by 3 Sprouts, a small company made up of people with serious design street cred, and it shows. There are three different shapes and sizes, the Bin, the Box and the Caddy. The canvas is 100% organic cotton and the felt animals are made from recycled soda bottles.
The fox bin is pictured above, the raccoon bin below, but there are 8 different animals to choose from. The bins are are 17″ by 17″ and they are great for stuffed animals, laundry or dress-up clothes.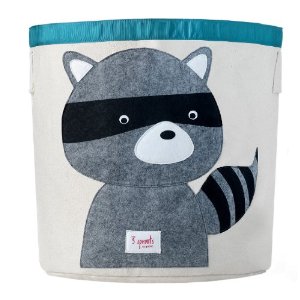 Next we have the 3 Sprouts storage box. Love the peacock!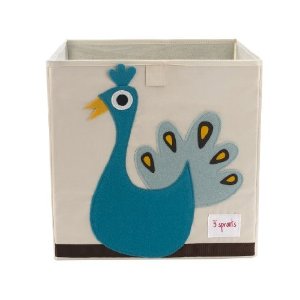 The storage box is 13″ by 13″ by 13″. Perfect for LEGOs, cars, little dolls and action figures. Any little thing that you would like to scoop up and put on a shelf.
And then the caddy.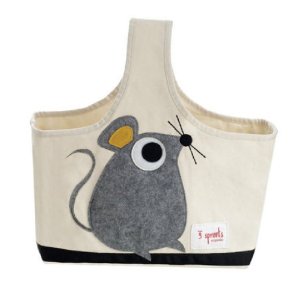 Oh caddy, I think I love you most of all. If you have a 3 or 4 year old you know about their love of putting things in bags and carrying them around the house. The caddy is perfect for anything that will be carried around like books, play food, hair accessories or doll clothes.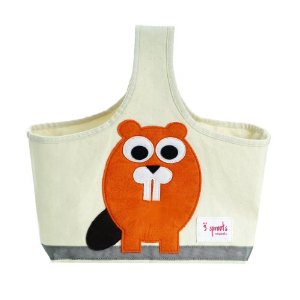 I am going to ask you to remember Christmas morning and all the new toys and the feeling you get every year when you look around and wonder where the heck you are going to put all these toys. My advice? Get a bunch of toy storage bins now and be prepared. Or give them as gifts to friends who are going to end up with more toys than they have places to put them.  You will be their hero.
Most Commented Posts