I was thinking about stroller toys earlier today. I have absolutely no idea why, but the human mind is a strange place and so for no apparent reason I was thinking about stroller toys. We have never been big stroller people, not for any particular reason except I am lazy and carrying a baby seems easier most days than pulling the stroller out of the car. (As an aside – I loved that scene in Away We Go where one of their many crazy friends said "Why would I want to PUSH my baby away from me?!" – Hilarious!) Nevertheless, there are times when a stroller is important and stroller toys can make a shopping trip much more bearable. Well, I have discovered that cute stroller toys are difficult to find, but I have done to work for you and found not one but two cute stroller toys. The first is the Manhattan Toy Snuggle Pods Travel Toy.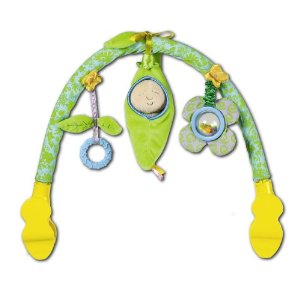 It clips to a stroller, car seat, or just about anything else. The adorable snuggle pod baby comes out if your baby needs it to (and he/she will need it to come out for snuggling and possible chewing).
Also cute is the Tiny Love Sunny Stroll Arch.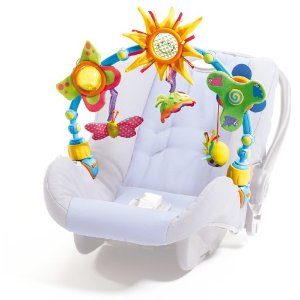 I love the yellow sun prism and the crinkly butterfly. These toys do not detach so they might be better for babies than toddlers. The upside of toys that do not detach is that they also don't get dropped or thrown on the ground.
Related Toy Reviews: