The humble stacking toy is a truly great toy. Stacking is such a great activity for kids of all ages. They are developing their little brains while they think they are having fun! Is sneaking learning into their fun like sneaking carrots into their mac-n-cheese?
I love these baby stacking toys from Rich Frog.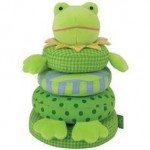 And coming tomorrow, stacking toys for older kids.
Related Toy Reviews: