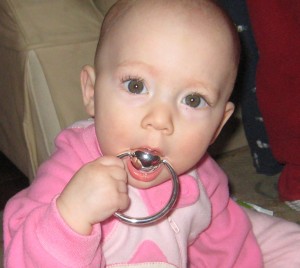 Babies don't really need anything. Well, they need love and snuggles and food and sleep, but they don't really need anything you can buy or give as a gift wrapped up in pink or blue tissue paper. (All right, there are clothes and diapers too, but those aren't as fun to buy). Baby toys, for obvious reasons, are usually soft. Soft stuffed toys with no hard edges or surfaces. This is good (not so many rusty metal toy injuries) and bad. I was told by a pediatric physical therapist once that it is important for babies to be exposed to many different textures, and they should have toys that are hard too. That doesn't mean that they have to be unsafe. I am here to tell you about some that have been the most popular among our babies.
This silver chime teether is wonderful, in fact The Princess still digs it out of her basket and chews on it. The metal gets a little cold and I think it must feel good when she is teething. It makes a very gently chime sound, soothing, not loud or jarring. You know how opposed I am to toys that make noise, but this one is so quiet about it that I love it. It is simple and beautiful and gender neutral, so makes a great baby shower gift too.
This Haba Triangle Rattle has been a favorite of every baby to enter this house: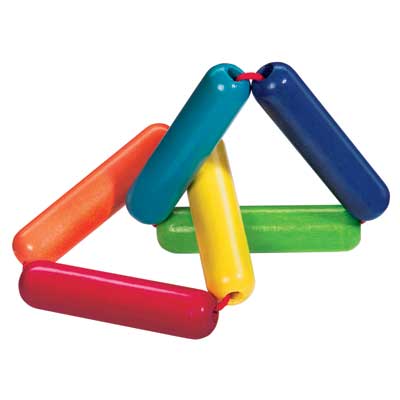 It is wooden, makes a fabulous wooden clakkety sound when shaken and the size and shape of it make is very easy for young babies to hold it and chew on it. Haba has a reputation of having impeccable safety standards and I would rather have my babies chewing on their wooden toys than have to wonder what is leaching out of the plastic rattles they are gnawing.
And, of course, a book to go along with: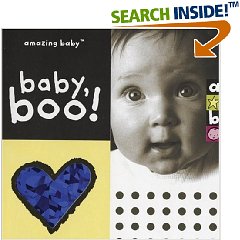 We didn't have this for the boys, but The Princess loves it. It was a gift from a friend and it has been read a lot here at Toy Report HQ. It is just pictures of baby faces (babies LOVE other babies) with a few words on each page describing that the baby is doing. I love it when The Princess laughs along with the "Giggle, Giggle, Smiley baby" page.
Related Toy Reviews: