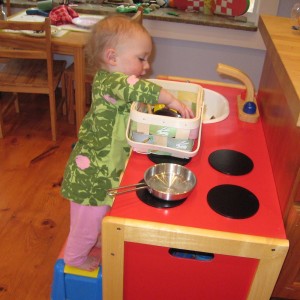 The boys lost interest in our play kitchen a while ago and in the interest in saving space we moved it up to the attic where the rarely played with toys reside along with anything anyone gives us that makes noise. Electronic toy noises make me want to yell and throw things.
Every time they made the trip up to the attic to visit the loud things the Princess has loved the kitchen set, making all kinds of soup for whoever is within the reach of her spoon.
Well, after weeks of this I realized that something she loved to play with would be a great addition to our kitchen, a place where I am often trying to keep her occupied so that I can cook real food or wash the occasional dish.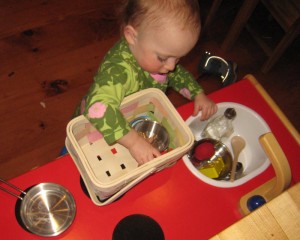 Her specialties include butter soup, mushroom and cheese soup and goldfish cracker soup. I love our play kitchen, it fits nicely in our real kitchen. It was a present from my mother when the boys were the Princess' age, but I can't seem to find one like it for sale anywhere. I really like this wooden play kitchen from Educo, though.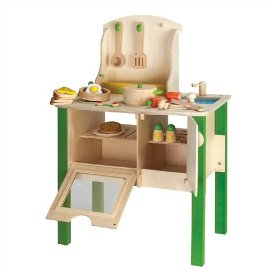 If you are in the market for one I highly recommend getting a wooden one. They are so much prettier than the plastic kitchen sets. If you have the space, this retro kitchen is pretty cool.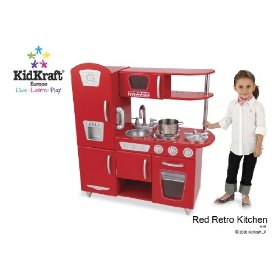 Related Toy Reviews: