Melissa & Doug Sunny Patch sand toy week continues. I really like the general baking set.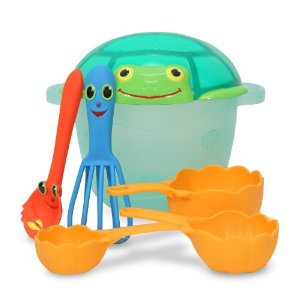 Officially called the Melissa & Doug Sunny Patch Seaside Sidekicks Sand baking Set, it performs all the basic functions of any sand bucket set. It has a mixing bowl/bucket with a lid that doubles as a sifter. It has a mixing spoon/shovel and a whisk. Also includes three measuring cups, perfect for sand baking.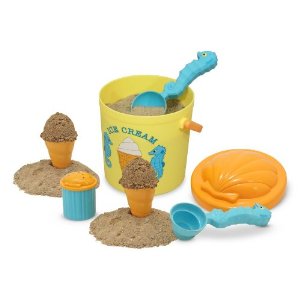 I am also a fan of the Melissa & Doug Sunny Patch Speck Seahorse Sand Ice Cream Set.  It comes with an ice cream bucket, ice cream cones that you can scoop sand into with one of the ice cream sand mold scoops and a shaker for sand sprinkles. Because these toys don't include the kinds of little molds that the cookie set and the cupcake set, I think they have a wider age range, fun for kids as young as one or two. The youngest kids may not get that they are scooping ice cream, but they will have just as much fun with scooping sand into different containers and dumping it out.
Related Toy Reviews: