Kids love mail, it is a scientific fact. I have a round-up of the best mail themed toys for a variety of ages.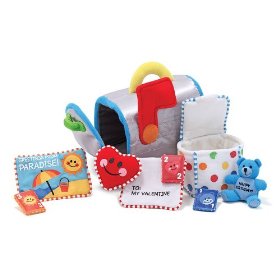 Fist up is the Melissa & Doug Fill and Spill mailbox. This is perfect for babies  and toddlers (one and two year olds). Toddlers Love to put things inside other things (the "fill" part) and love to dump things out even more (the "spill" part). Plus, the cuteness!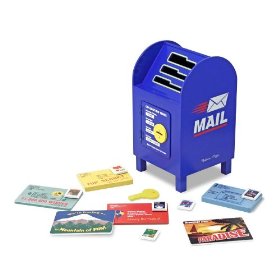 Next up is the Melissa & Doug Stamp and Sort Mailbox.  This toy is great for kids 3 to 5 years old. These wooden letters have stamps that stick on with velcro. The letters are all different shapes and each will only fit into one of the three slots on the mailbox, meaning this toy provides similar neurological stimulation to a puzzle (if you like your toys to be "educational" this is the sort of thing you are looking for). The best part of this whole set may be the key that is required to open the mailbox. Every kid I know loves keys.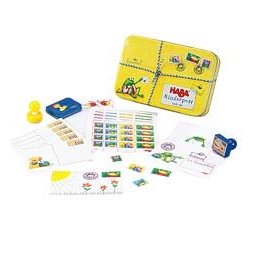 And lastly, for older kids, Haba Kinder Post is a great mail set. This is really for 5 to 8 year old kids. The yellow metal tin is adorable and it contains stationary, envelopes, post cards, stickers and rubber stamps. In short, all your budding correspondent needs to create realistic mail, cancelled stamps and everything.
Now you have all the information you need to provide any kid with hours of mail related fun. Good luck getting "my baby wrote me a letter" out of your head (or is that just me?).
Related Toy Reviews: